Guidelines for Video Content that Students will Actually Watch!
Course
Practical guidelines to plan and record videos that students will readily watch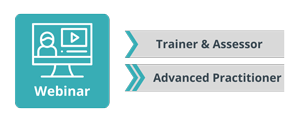 Do you know why students are demanding more video content, yet are quick to switch right back off when you miss the mark?
Come learn the answers to those questions along with highly practical, proven strategies for creating videos that will get watched. Presented by the always engaging Dr Deniese Cox from TeachingOnline.
Many of today's students expect to see pre-recorded video content as part of their learning materials. They want to watch your presentations in their own time, and they want to revisit key concepts on demand. Yet those same students are saying that teacher-made videos are often missing the mark.
Unwatched videos represent wasted resources, time, and effort!
In this webinar, you will learn practical guidelines to plan and record videos that students will readily watch. Built from research that monitored online student behaviour and reasonings, you won't want to miss these important insights and practical guidelines.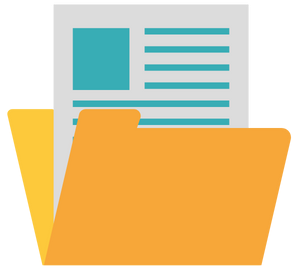 The detailed workbook provided includes all the planning tools and templates for ongoing use.
Webinar details
Date: Thursday 28 July 2022
Time: 11am AEST (Sydney, Melbourne, Brisbane)
Duration: 1 hour, 15 minutes
Investment: $60.00 inc GST.
10% discount! for VET PD Series subscribers - Use your Voucher Code when registering!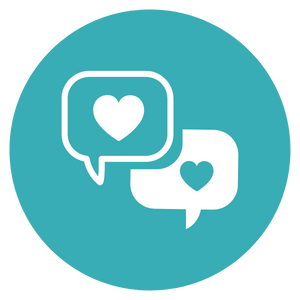 What participants' said previously when this topic ran
My big ah-ha moment was that we don't need a fancy studio to make the videos students want
These guidelines showed us how essential videos are, and also how to just get on with it
These work! Our students seriously love our new videos
The planning sheets are brilliant – I use them all the time now
Presenter

Dr Deniese Cox - Founder, TeachingOnline.com.au 
Deniese is the go-to source for exceptional online strategies that really are effective. With extensive hands-on experience of her own plus a Masters in online learning and a PhD in online teaching, Deniese is the perfect partner for VET educators wanting to cut through noise around online education. We can't stress enough how highly interactive and engaging her webinars are, and we know you'll always learn practical, proven strategies that can easily be adapted to meet the needs of your unique context.
Every strategy presented by Deniese has been researched, trialled, refined, and proven to work in a variety of settings by diverse VET educators and students. It's Deniese's ongoing research in this space that enables her to bring you the latest insights, and is what sets her apart.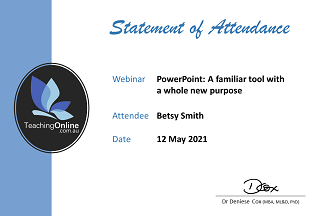 A Statement of Attendance is issued on completion of live event activities.
Note the recording of the live event will be available to all participants for 30 days only after the event.

Vocational Training including Competency-Based Training
Designing Training

Prepare resources for delivery

Facilitating Training

Support and monitor learning
Vocational Learning
Supporting Learning

Support and monitor learning
Completion
The following statements are received when the course is completed:
| | |
| --- | --- |
| | Teaching Online - Statement of Attendance |