Establishing Early Engagement
Course

Facilitate learning to be powerful & impactful supporting long term recall
Hook them, captivate them, keep them engaged - excite, motivate & engage learners.
There are 5 big 'States' for learning which active the brain's chemicals, functions and neuro-centres to maximise learning outcomes. These include: peptide molecules, amino acids, parietal and frontal lobe engagement, noradrenalin, amygdale engagement, cortisol, dopamine and many others. A smorgasbord of chemicals to either enhance or hinder learning. Learn how to "Hook 'em early and get 'em curious" with a natural, brain chemically-enhanced experience of excitement, curiosity, fun and wonder.
Begin your session by getting them curious. Stimulate the desire to learn the answer to a problem, thus activating the reward system of the brain. So that, even before the answer is given, the state of curiosity provides a reward and a positive feeling. The Reticular Activation System (or RAS) of the brain is engaged, as is the Parietal and Frontal lobes - the human thinking part of our brain.
We will experience simple ways to achieve this Early Engagement with some good framing-up activities. We need to get learners mentally and attitudinally present in the room, as well as physically there. These processes are simple, refreshing, practical and totally relevant to the challenges of teaching today.
Refresh and upgrade your skills, and excite your students to learn … and keep on learning!
Book Early!  This live event is limited to 30 places only!
Webinar details
Date: Wednesday 6 October 2021
Time: 10.30am AEDT (Sydney, Melbourne)
Duration: 1.5 Hours
Investment: $47.95 inc GST. 
20% discount! for VET PD Series subscribers - Use your Voucher Code when registering!
We'll explore...
Setting up an exciting journey to engage curiosity and satisfy the Global learners
Manifesting a sense of positive anticipation for learners when they enter your classroom, and why this is important
Positive effects of attention-grabbing starts from the very beginning
Generating states of curiosity and the powerful impact this has on learning success
Designing activities to get them unconsciously questioning and seeking answers
Reaping learning rewards from harnessing the learner's own sense of challenge and victory
Understanding the concept of STATE and how to manipulate it for learning outcomes
Ways to engage through unexpected situations and segues
Realising there are five main learning STATES and how to include them for optimum impact
Acknowledging the importance of fun throughout your lessons
Suggestions to help you engage student attention and focus to ensure you are delivering your content to open minds
Tip, tricks, and techniques galore for you to 'market research' and steal/implement for yourself
Training delivery skills interwoven with engaging, brain targeted focus
Our Presenter

Laurie Kelly
Laurie Kelly has been opening up the "mysteries of the mind" to trainers and educators from all walks of life around the world for most of his working life. He is a specialist in Brain-Friendly Training and Delivery Skills that engage. This has been his passion for over 30 years and his passion is drawn from his wealth of experience, his love for his subject and his ability to rekindle enthusiasm and passion in even the most tired Educator.
Recognised as a National and International Educator of Educators, he communicates his teachings to everyone at all levels, from CEO's to the people on the ground, whilst making it captivating, engaging, relevant and instantly transferable back into the workplace. Laurie is driven to improve the learning experience from a learner's perspective by making trainers more effective and impactful via enhanced & engaging delivery skills.
Laurie speaks both nationally and internationally on current knowledge of how the learning brain works to maximize the impact of teaching, and to create an openness factor in our approach to change and new learning. His experience in improving trainers' skills in engagement is vast – he is one of the most sought after presenters in his field.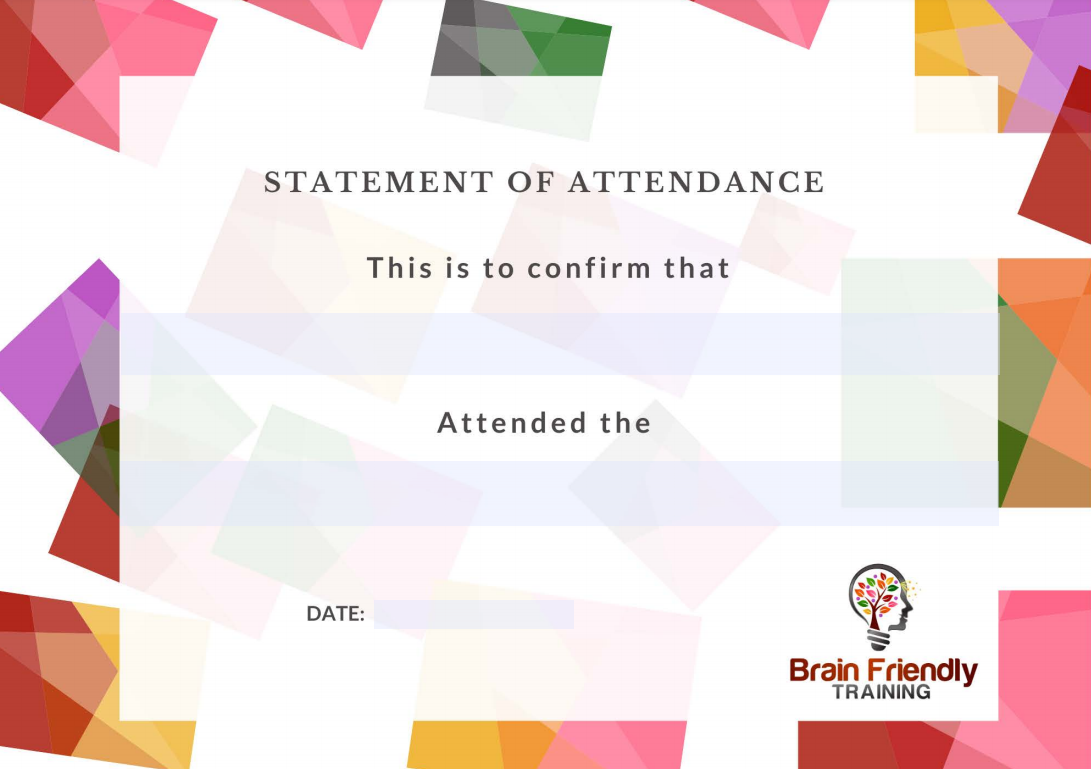 A Statement of Attendance is available for issue on completion of the event's activities. 
The recording of the live webinar will be available to participants for 30 days after the event.
Completion
The following statements are received when the course is completed:
| | |
| --- | --- |
| | Brain Friendly Training Statement of Attendance |