Electric & Engaging Training Delivery
Course

Facilitate learning to be powerful & impactful supporting long term recall
Delivering content in a brain friendly way, in any training environment, will get your message across quickly and successfully. Learners learn easily, and that learning sticks forever. From the advances in neuroscience we now know a lot more about the brain and how learning happens and ways we can facilitate this learning to be powerful, impactful and with long term recall.
In this workshop you can expect to experience brain friendly learning in practice, understand its impact for yourself and witness how easy it is to implement into any learning context. Word of mouth referrals are the life-blood for any trainer or RTO and are the most cost effective marketing tool that we have - and it's vital. Positive referrals come from happy clients. These clients are participants who received top quality training that engaged and inspired them, with instant practical learning transfer into the workplace.

Maintain your currency and competency, and be prepared to have fun and stretch your own thinking as you experience some brain friendly training skills. We promise lots of ideas you can immediately use in your own practice. You and your students will love it - guaranteed!
Book Early!  This live event is limited to 30 places only!
Webinar details
Date: Wednesday 1 September 2021
Time: 9.30am AEST (Sydney, Melbourne, Brisbane)
Duration: 1.5 Hours
Investment: $47.95 inc GST. 
20% Discount! for VET PD Series subscribers - Use your Voucher Code when registering!
Our Presenter

Laurie Kelly
Laurie Kelly has been opening up the "mysteries of the mind" to trainers and educators from all walks of life around the world for most of his working life. He is a specialist in Brain-Friendly Training and Delivery Skills that engage. This has been his passion for over 30 years and his passion is drawn from his wealth of experience, his love for his subject and his ability to rekindle enthusiasm and passion in even the most tired Educator.
Recognised as a National and International Educator of Educators, he communicates his teachings to everyone at all levels, from CEO's to the people on the ground, whilst making it captivating, engaging, relevant and instantly transferable back into the workplace. Laurie is driven to improve the learning experience from a learner's perspective by making trainers more effective and impactful via enhanced & engaging delivery skills.
Laurie speaks both nationally and internationally on current knowledge of how the learning brain works to maximize the impact of teaching, and to create an openness factor in our approach to change and new learning. His experience in improving trainers' skills in engagement is vast – he is one of the most sought after presenters in his field.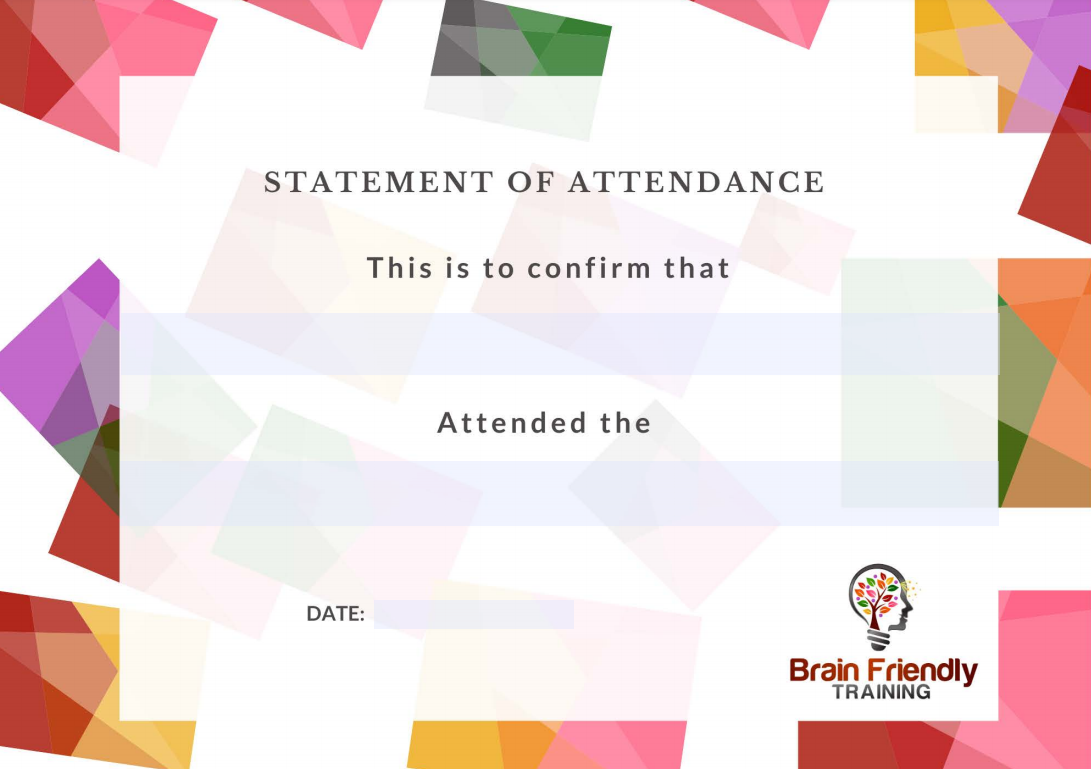 A Statement of Attendance is available for issue on completion of the event's activities. 
The recording of the live webinar will be available to participants for 30 days after the event.
Completion
The following statements are received when the course is completed:
| | |
| --- | --- |
| | Brain Friendly Training Statement of Attendance |