Positively Influencing Behavioural Change
Course
Explore how individuals' urges fulfill their human needs & personal values
Behavioural change is possible – and can be influenced by those around us.
Join Martin Probst for this insightful webinar to learn how human behaviours develop and can be positively influenced. This advanced session will explore how individuals' urges to fulfill their human needs and personal values are powerful ways to positively influence behavioural change in self and others.
You'll learn purposeful strategies for positively influencing result focused actions and behaviours in self and others through self-awareness of their own interactions and responses. This will allow participants to influence and promote long-lasting change.
Webinar details
Date: Tuesday 1 June 2021 - Please note that registrations close the day prior to the live event.
Time: 12.30pm AEST (Sydney, Melbourne, Brisbane)
Duration: 1 hour
Investment: $55.00 inc GST.

 Book at least 7 days prior using the discount code  VDC-POSITIVE  to receive a 10% discount.
20% discount! for VET PD Series subscribers - Use your Voucher Code when registering!
Level
Advanced. Professional learning aimed at practitioners that have in-depth knowledge and established skills to shape a team's training and assessment practice.
Audience
This webinar is suited for VET teachers, trainers and educators, frontline managers and senior managers.
Understanding the origin of human behaviours
Positively influencing behavioural change
How to fulfil our 6 Cs resourcefully
The Value of Values
Learning Outcomes
A clear understanding of human behaviours
Enhanced people skills to promote positive behaviours
Heightened confidence and self-awareness to successfully deal with challenging behaviours.
Presenters

Martin Probst
Martin Probst has been working within the Vocational Education and Training environment for more than 15 years. His latest achievement is the "Learning Professional of the Year" award at the 2019 Australian Learning Impact Awards.
He specialises in delivering fun and practical high impact training that can be applied in the workplace with immediate results.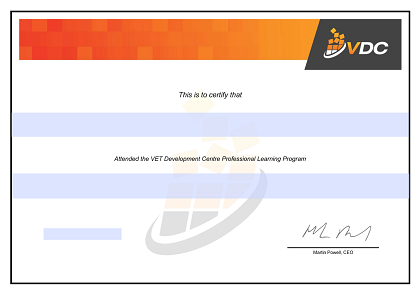 A Statement of Attendance is issued on completion of live event activities.
Note the recording of the live event will be available to all participants within 7 days after the event.
Completion
The following statements are received when the course is completed:
| | |
| --- | --- |
| | VDC - Certificate of Attendance |