Webinar Bundle - Getting your Training Tech on Point!
Bundle
This webinar series is jam packed full of tips and tech tools to support trainers when delivering online & in the classroom.
The series comprises the following sessions:
#1 - Advanced Power Point Techniques
#2 - Technology Tools to Support Trainers
#3 - Gamification Crash Course
#4 - The Online Trainer's Tool Kit: Strategies to Engage & Enliven Online Training
#5 - Digital Resources that give your Training the WOW Factor
Each webinar focuses on different strategies, resources and techniques that can be used to integrate technology more effectively into training and leverage this technology to create more engaging learning experiences.
This series of webinars will help you to add the polish your training needs to maintain the attention of audiences and keep them enthusiastically involved.
 This webinar series package comprises 5x digital live webinar sessions.
Investment: $199.00 inc GST.  
Presenters

Marc Ratcliffe - CEO, MRWED Training and Assessment
Marc is a multi-award-winning trainer, author and education entrepreneur. He is the CEO and founder of MRWED Training and Assessment and has been involved in the VET Sector for more than 25 years. Marc is a strong advocate for "edu-tainment" and believes that learner involvement and fun are integral to student success.
He continues to be an in-demand conference speaker and workshop facilitator, having presented at more than 50 conferences in a dozen countries in the past decade. He has also presented training-related workshops internationally in the UK, North America, Africa and Asia and is one of only two people in Australia certified to deliver Bob Pike's Train-the-Trainer Boot Camp, the world's most respected train-the-trainer program.

Jason Ash - GM, MRWED Training and Assessment
Jason has more than 13 years of training and assessment experience, gained predominantly in corporate environments. He has specialised in delivering training in sales, coaching, business communication and management and has received international acclaim for his work in Learning and Development.
Jason was the winner of the Platinum Award for "Best Young Learning Leader" at the 2011 LearnX Asia-Pacific Awards and was named a young trainer to watch by US Training Magazine in 2012. In addition to his dynamic face-to-face facilitation, Jason has built skills in developing effective online training programs and has been heavily involved in the customisation of training material to meet unique client needs.
Jason is a two-time MRWED Trainer of the year and is one of only three trainers to be certified in Bob Pike's Train-the-Trainer Boot Camp, the world's most well-respected trainer training program.
A strong advocate for the participant-centred approach to training, Jason has spoken on the topic of Creative Training Techniques at conferences all over Australia and at multiple events in the United States. Most recently Jason was named as the top presenter at the Annual Creative Training Techniques conference in Minneapolis (2014).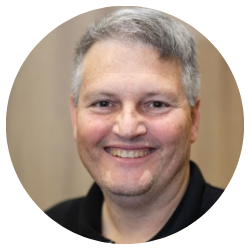 Damian Noud - MRWED Training and Assessment
Damian has more than 20 years of experience in training and assessing at universities and private colleges. Through his roles as a Director of Studies and then Principal at NSW and QLD private training organisations, Damian has had substantial practical management experience in Australia's VET sector. After completing an Honours degree in Economics, he obtained a Masters of Business Administration in addition to relevant vocational qualifications in Training and Assessment.
Damian relies upon his extensive experience in the VET industry in his current role in MRWED's Learner Success Team and has championed the development of MRWED Online. He has a fun and energetic delivery style and has delivered in excess of 500 days of face-to-face instruction in trainer training.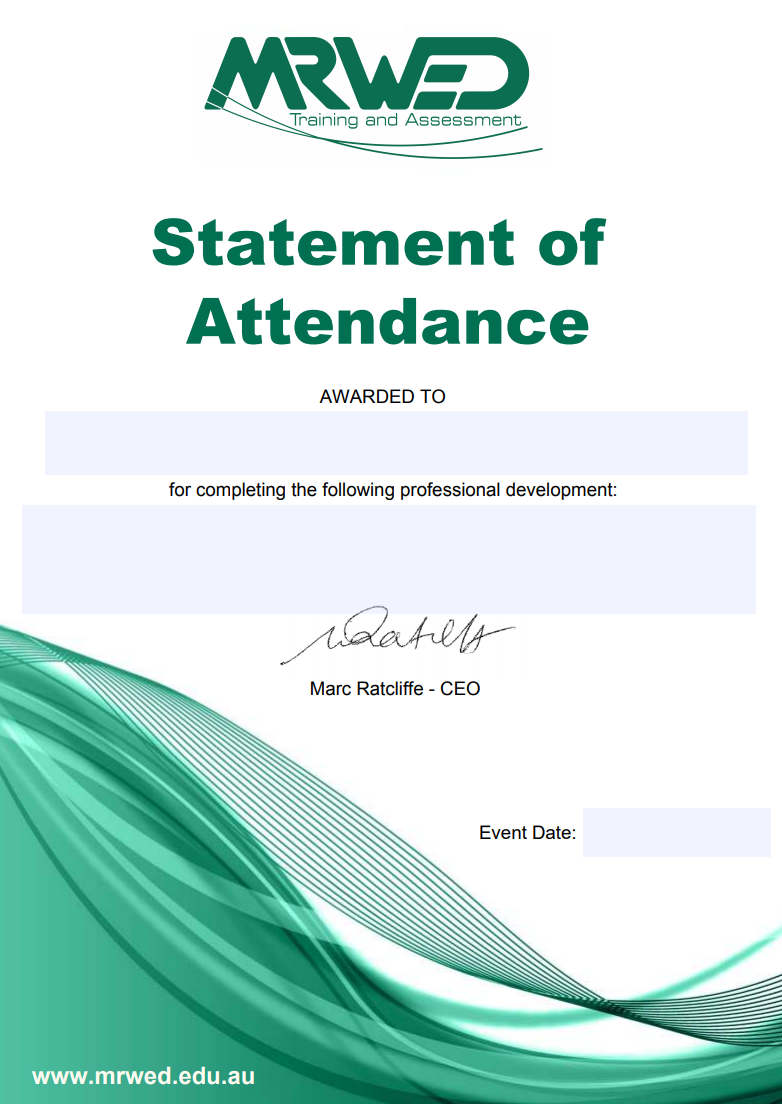 A Statement of Attendance is issued on completion of live event activities.
Note the video recording of the live event will be available to all participants for 30 days after the event.