Accommodating Reasonable Adjustment in Vocational and Workplace Training & Assessment
Subscription
Course package for implementation in your organisation - working with client learners who draw from backgrounds in which English is not a first spoken or written language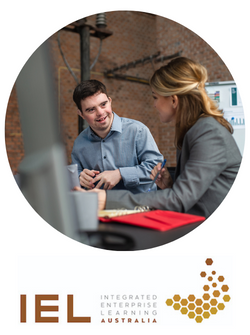 This course bundle will allow Registered Training Organisation Managers and Learning and Development staff to provide comprehensive continuing professional development for their trainers and community program managers. The learner materials are targeted at both accredited and non-accredited VET trainers and assessors, community workers, activity leaders and workplace professional development coordinators working with client learners who draw from backgrounds in which English is not a first spoken or written language.
The course as delivered is non-accredited. Course materials, learner activities and assessment tasks in the bundle are designed for face-to-face or online synchronous delivery by a senior trainer, manager or Learning and development professional (via email and live webinars), undertaking 11 hours of student over the recommended period of approximately eight (8) weeks. The pack includes an Experiential Learning Project (ELP): Design and Implement a Learning and Assessment Sequence for CALD Learners incorporating Reasonable Adjustments.
Successful completion of IELARA001 will allow trainers and workers working alongside culturally and linguistically diverse people, including Aboriginal and Torres Strait Islanders, to better address principles of fairness, flexibility, validity and reliability within workplace and vocational training settings. The course also provides detailed and useful templates for professional training practitioners to assist them with planning for and implementing reasonable adjustments in vocational and workplace training & assessment.

Course Bundle - Annual Subscription Licence:
$499.99 inc GST per annum licence fee for up to 40 learners (single entity deliverer), renewable annually through vetr.
Note: Learners are registered & access their course materials via the vetr Portal.

Course Bundle Inclusions:
IELARA001 course overview (PDF)
IELARA001 Course facilitator manual (PDF - 100+ pages)
IELARA001 Presenter slide decks (for either face-to-face or online synchronous sessions) (PDF)
IELARA001 Application activities and learner templates and tools, reproducible per learner for up to 40 learners in a single licence (PDF and Word templates).
IELARA001 Learner Online Course Access - Accommodating Reasonable Adjustment in Vocational and Workplace Training & Assessment (Modules 1 – 7)