Meeting Trainers Requirements
Course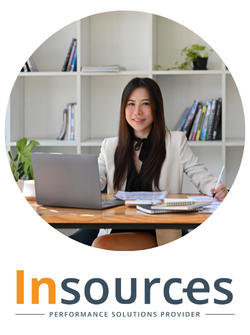 Understand regulatory requirements for trainers & assessors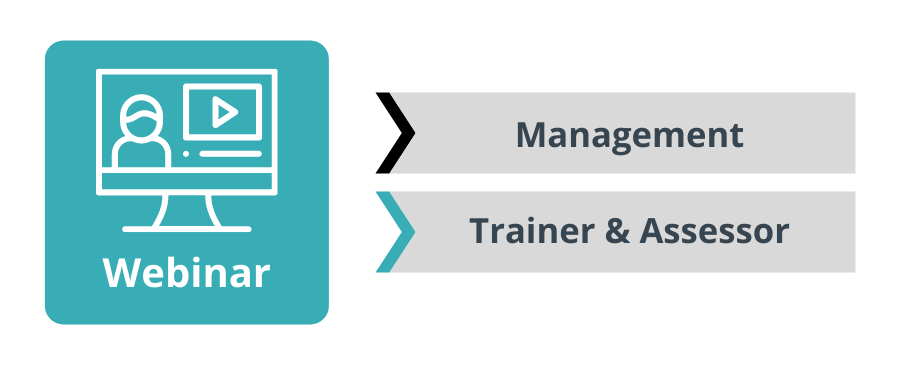 This webinar will explain the requirements of the Standards, specifically Clauses 1.13-1.16 and 1.21-1.24.
You will be provided with examples and strategies to meet those requirements.                                                           
As part of the Standards for RTOs 2015, trainers and assessors who deliver National Recognised Training must meet the:
Vocational competency requirements,
Current industry skills requirements,
Vocational training, learning and assessment requirements,
Current knowledge and skills in vocational training and learning requirements, and
Undertake professional development
This webinar will explain the Standards for RTOs 2015, specifically Clauses 1.13-1.16 and 1.21-1.24, and will provide examples and strategies to meet the requirements.
Webinar details
Date: Tuesday 14 June 2022
Time: 12.30pm AEST (Sydney, Melbourne, Brisbane)
Duration: 1.5 hours
Investment: $95.00 inc GST.
10% Discount! for VET PD Series subscribers - Use your Voucher Code when registering!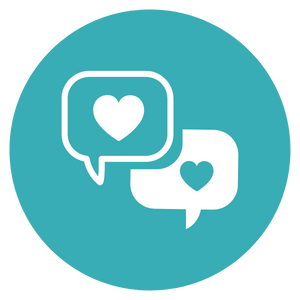 What participants' said previously when this topic ran
Very easy to understand and answered all of my questions regardingTrainer/Assessors
The webinar's are extremely helpful, presented in a very accessible way and good duration. We have used Javier's team for a number of projects successfully and they have always been most helpful
Excellent webinar - relevant, practical and easy to understand and apply
The trainer was highly professional and knowledgeable and presented a well-pitched, well-paced information session. He was also able to appropriately answer all questions
Thank you for publishing this webinar. It clarified what I was misunderstanding as far as experience in the field of First Aid. Training for 20 years. But I do not work in the First Aid field. Years of experience in training but not out in the field. I may have to volunteer at local sports clubs for a while
I have been a compliance manager in small as well as large national RTOs but I participate i find it valuable getting insights/opinions from both the presenter and participants
The training at InSources is always fantastic. Really helps with the practical application of the standards and RTO compliance as a whole!
Excellent! I got few new helpful information today even though I am into this industry since Sep 2011
This was a very good webinar. Easy to follow and understand. Delivered at a good pace with plenty of opportunity to ask questions and interact. Thank you!
Learning objectives

Understand regulatory requirements for trainers and assessors

Identify different strategies to ensure compliance with the requirements under Clauses 1.13-1.16 and 1.21-1.24

Identify strategies to monitor compliance with trainer/assessor requirements.
Application objectives
Apply a systematic approach to the professional development plan for trainers and assessors

Develop a systematic approach to monitoring compliance with Clauses 1.13-1.16 and 1.21-1.24

Develop a consistent HR Strategy to select, recruit, and manage trainers and assessors in line with the requirements under Clauses 1.13-1.16 and 1.21-1.24
Impact objectives
Improve compliance with Standards

Connect professional development of trainers and assessors with business needs

Improve performance of trainers and assessors.
Presenter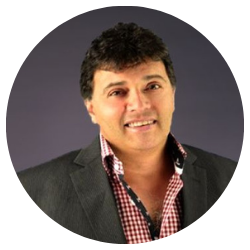 Javier Amaro - Director, Insources Group
Javier is the director and founder of Insources, a privately owned Australian training and consulting organisation. He has more than 17 years experience in the vocational and technical education world and has contributed to the Australian VET sector by designing and delivering more than 500 training programs to training managers, supervisors, facilitators, trainers, and assessors.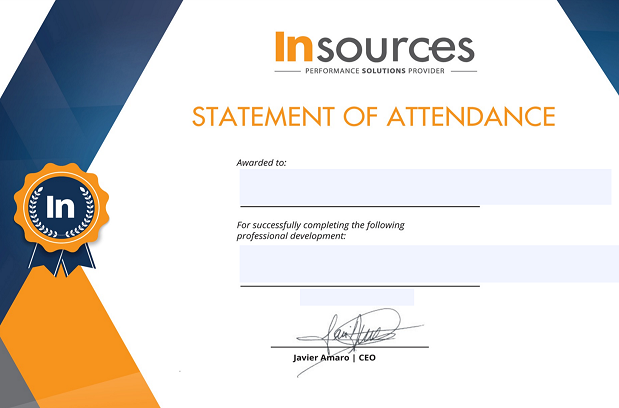 A Statement of Attendance is issued on completion of live event activities.
Note the video recording of the live event will be available to all participants within 7 days after the event for a viewing period of 14 calendar days.

VOCATIONAL TRAINING INCLUDING COMPETENCY-BASED TRAINING
The Vocational Education & Training Sector


Work within the VET policy framework
Completion
The following statements are received when the course is completed:
| | |
| --- | --- |
| | Insources - Statement of Attendance |