Don't Let your 'About Me' Bio Keep Blocking Student Engagement
Course
Did you know that research has found that one critical blocker to online student engagement is your 'about me' bio or intro?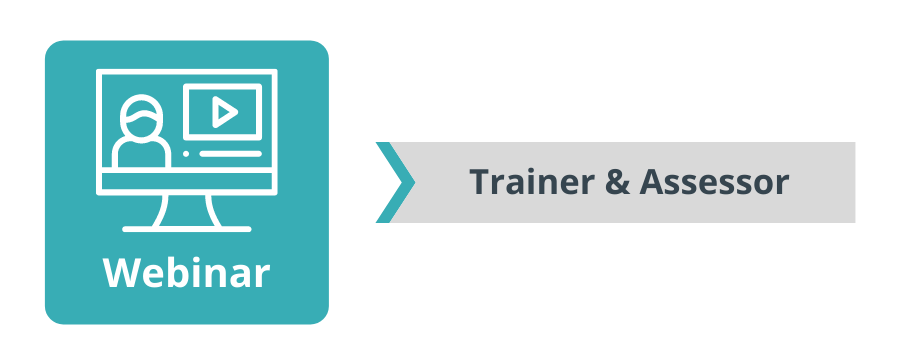 Come learn the simple formula for getting yours right! This hands-on session with Dr Deniese Cox from TeachingOnline is definitely not to be missed.
Your 'about me' bio or self-intro is one of the very first things online students go looking for. Those same students report that most intro's are switching them off and blocking their engagement!
First impressions affect things like willingness-to-engage ratios, optimism for learning, and early drop-out rates. This means that quickly gaining the trust and engagement of your students is vital. Your 'about me' bio really does matter!
Don't worry – I've worked with a communications expert to design, test, and refine the perfect formula, and hundreds of educators have now found what a huge difference applying this formula has made. This is a very hands-on webinar where you'll be walked step-by-step through writing your own self-introduction in a way that does resonate with students.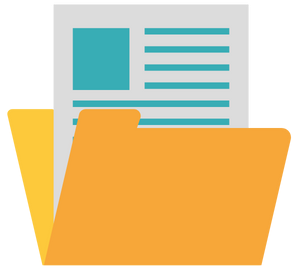 The detailed workbook includes all the templates for ongoing use, and you too will soon be seeing what a difference this approach makes.
Webinar details
Date: Thursday 10 November 2022
Time: 12pm AEDT (Sydney, Melbourne)
Duration: 1 hour, 15 minutes
Investment: $59.99 inc GST.
10% discount! for VET PD Series subscribers - Use your Voucher Code when registering!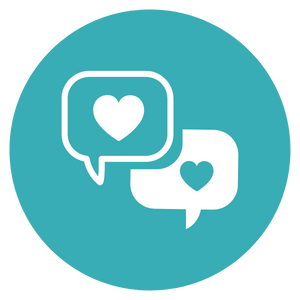 What participants' said previously when this topic ran
A topic I've never given much thought to, but gosh, it makes so much sense
Having followed this advice and rewritten my introduction, I'm immediately seeing results
The workbook is just brilliant
I love research-driven PD, you know your time is being well spent
Presenter

Dr Deniese Cox - Founder, TeachingOnline.com.au 
Deniese is the go-to source for exceptional online strategies that really are effective. With extensive hands-on experience of her own plus a Masters in online learning and a PhD in online teaching, Deniese is the perfect partner for VET educators wanting to cut through noise around online education. We can't stress enough how highly interactive and engaging her webinars are, and we know you'll always learn practical, proven strategies that can easily be adapted to meet the needs of your unique context.
Every strategy presented by Deniese has been researched, trialled, refined, and proven to work in a variety of settings by diverse VET educators and students. It's Deniese's ongoing research in this space that enables her to bring you the latest insights, and is what sets her apart.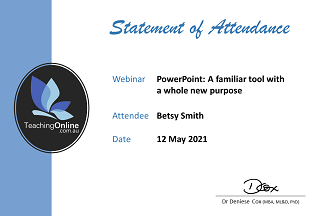 A Statement of Attendance is issued on completion of live event activities.
Note the recording of the live event will be available to all participants for 30 days only after the event.

Vocational Learning
Supporting Learning

Establish the learning-facilitation relationship
Support and monitor learning
Completion
The following statements are received when the course is completed:
| | |
| --- | --- |
| | Teaching Online - Statement of Attendance |