Yes, You Too can Green Screen
Course
Have you been wanting to take your online presentations or recordings to the next level?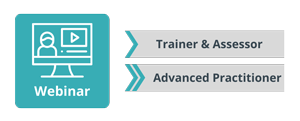 Are you curious about what's involved in adding green screen technology to your work space? Come see what's involved and what equipment + software you'll need.
Did you know that the way you're seen in videos and live sessions affects student attention, willingness-to-act, assimilation, and retention?! To take your online presentations and recordings to the next level, you might consider adding green screen technology. Come learn what's involved with Dr Deniese Cox from TeachingOnline.
One of the most frequently asked questions at my webinars is 'how can I look like that too?' – and they're sure as anything not referring to my wrinkly face, they're referring to a camera feed that makes it look like I'm standing right in front of my PowerPoint slides and other materials. My answer is a very user-friendly green screen studio setup in my home office.
A setup like this will take your live online sessions and recorded video content to the next level, and audiences respond incredibly well to the increased presence of you, your body language, and your interaction with materials. A key feature of this studio setup is that being live online works the same as recording videos, and most of these features work at the push of a button with zero video editing or fuss.
In this webinar I'll demonstrate some of the features having a setup like this opens up for you. Then I'll walk you through the eight hardware and software elements you'll want to consider. Yes, I do share what to budget for each component so you can decide if this type of setup is right for you. Yes, there'll be plenty of time for questions and discussion too. No, I don't walk you through each step of the software setup, but I have written a separate 150-page getting started guide if you do decide to take the plunge.
Webinar details
Date: Thursday 25 August 2022
Time: 11am AEST (Sydney, Melbourne, Brisbane)
Duration: 1 hour
Investment: $45.00 inc GST.
10% discount! for VET PD Series subscribers - Use your Voucher Code when registering!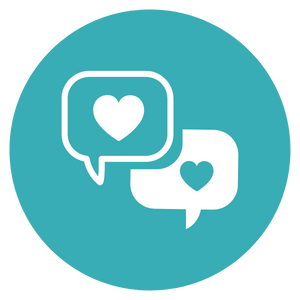 What participants' said previously when this topic ran
So generous with her knowledge and experiences when answering questions
I appreciated how Deniese explained the individual parts so we can make decisions about what will work best for our own space and limited budget
I'm amazed how easy it's going to be to do this setup for myself
The getting-started book is worth getting, it's fantastic - well worth purchasing in addition to the webinar
Presenter

Dr Deniese Cox - Founder, TeachingOnline.com.au 
Deniese is the go-to source for exceptional online strategies that really are effective. With extensive hands-on experience of her own plus a Masters in online learning and a PhD in online teaching, Deniese is the perfect partner for VET educators wanting to cut through noise around online education. We can't stress enough how highly interactive and engaging her webinars are, and we know you'll always learn practical, proven strategies that can easily be adapted to meet the needs of your unique context.
Every strategy presented by Deniese has been researched, trialled, refined, and proven to work in a variety of settings by diverse VET educators and students. It's Deniese's ongoing research in this space that enables her to bring you the latest insights, and is what sets her apart.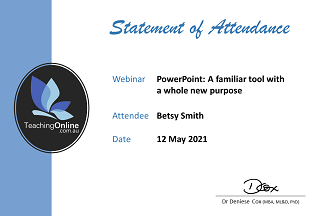 A Statement of Attendance is issued on completion of live event activities.
Note the recording of the live event will be available to all participants for 30 days only after the event.

Vocational Training including Competency-Based Training
Designing Training

Prepare resources for delivery

Facilitating Training

Deliver and facilitate training sessions
Completion
The following statements are received when the course is completed:
| | |
| --- | --- |
| | Teaching Online - Statement of Attendance |