Thriving Live Online
Course
Wanting to know what it is learners want from your live online sessions?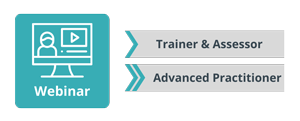 Looking for ways to always getting active participation?
Come hear the latest research and learn proven techniques so that you too can thrive live online.
It's frustrating when you host a live online session only for students to either not show up, or to sit there unengaged and non-responsive. Don't worry, help is at hand! In this webinar, presented by the always engaging Dr Deniese Cox from TeachingOnline, you'll learn what students want from live online time and how to get their active engagement.
We all know that online participants are more likely to pay attention in live sessions if they're actively involved. Furthermore, they're more likely to retain information if they have opportunities to assimilate ideas. Yet let's face it, too often those mic's stay turned off and that chat-box stays empty.
In this webinar, you'll hear current research about what students want from your live online sessions, and you'll learn practical strategies for meeting those expectations.
Then, live polling is introduced. Students love the anonymity of live polling, and they respond to the change in pace that comes with using a variety of poll types. During this highly interactive part of the session, you'll experience this 'gateway to engagement' tool firsthand. Experience several different poll types to get a feel for the student experience, while discussing why it's important to embrace different question types for different purposes.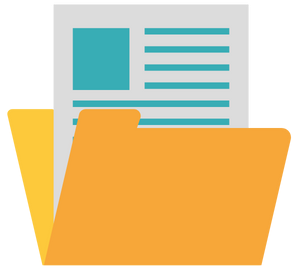 The detailed workbook provided includes all the planning tools for ongoing use.
Webinar details
Date: Thursday 11 August 2022
Time: 11am AEST (Sydney, Melbourne, Brisbane)
Duration: 1 hour, 45 minutes
Investment: $80.00 inc GST.
10% discount! for VET PD Series subscribers - Use your Voucher Code when registering!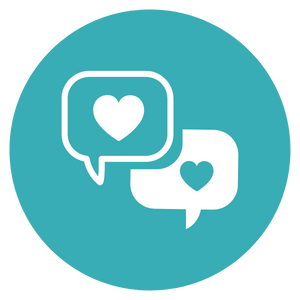 What participants' said previously when this topic ran
I can't believe how many new ideas I'm taking away from this
Love that Deniese shows the 'why' alongside the 'what' and 'how'
I wish I'd learn these things a year ago!!
I cannot wait to apply ALL these strategies – they just make sense
Presenter

Dr Deniese Cox - Founder, TeachingOnline.com.au 
Deniese is the go-to source for exceptional online strategies that really are effective. With extensive hands-on experience of her own plus a Masters in online learning and a PhD in online teaching, Deniese is the perfect partner for VET educators wanting to cut through noise around online education. We can't stress enough how highly interactive and engaging her webinars are, and we know you'll always learn practical, proven strategies that can easily be adapted to meet the needs of your unique context.
Every strategy presented by Deniese has been researched, trialled, refined, and proven to work in a variety of settings by diverse VET educators and students. It's Deniese's ongoing research in this space that enables her to bring you the latest insights, and is what sets her apart.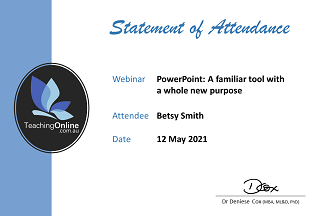 A Statement of Attendance is issued on completion of live event activities.
Note the recording of the live event will be available to all participants for 30 days only after the event.

Vocational Training including Competency-Based Training
Designing Training

Prepare resources for delivery

Facilitating Training

Support and monitor learning
Vocational Learning
Supporting Learning

Support and monitor learning
Completion
The following statements are received when the course is completed:
| | |
| --- | --- |
| | Teaching Online - Statement of Attendance |