Don't let your 'About Me' Teacher Intro Block Student Engagement
Course
Process of writing a self-introduction
However, my research has shown that students believe those teacher bio's are actively blocking engagement. As a result you're missing a key opportunity to build trust and engagement – two things that are absolutely critical in online education.
Don't worry – I've worked with a communications expert to design and test the perfect formula, and every participant in this webinar will be walked through the process of writing their self-introduction in a way that resonates with students and prompts them to make contact.
A workbook with templates will be emailed out ahead of this session, and includes a link to bonus content about how to take effective notes.
Previous participants say... 
A topic I've never given much thought to, but gosh, it makes so much sense and I'll be rewriting the My Trainer page straight away
The participant notebooks are brilliant
Having followed this advice and rewritten my intro, I'm immediately seeing results
Webinar details
Date: Wednesday 10 November 2021
Time: 3.30pm AEDT (Sydney, Melbourne)
Duration: 1 hour, 15 minutes
Investment: $55.00 inc GST.
20% discount! for VET PD Series subscribers - Use your Voucher Code when registering!
Presenter

Dr Deniese Cox
With a strong background in VET and corporate training, Deniese has been teaching online since 2013 for a variety of organisations in Australia and internationally. Today, through her consulting work at TeachingOnline.com.au, Deniese helps teams and individuals navigate the shift to online education.
Importantly, the strategies that Deniese shares are practical, proven, and driven by what's good for online students and teachers, rather than by technology-driven gimmicks or fads. That's only possible because Deniese is more than an experienced educator, she is also an active online VET researcher. This means that you get access to current best-practice research which Deniese then presents in practical terms. Best of all, Deniese never asserts a one-size-fits-all approach – you'll walk always from her webinars knowing how to readily apply new ideas to your context and teaching style.
Feel free to see Deniese's full bio at https://www.teachingonline.com.au/about-me or visit her testimonials page to see what other participants have said about her engaging workshops. We love the feedback after Deniese's sessions - everyone is always so positive about her work and energised by her interactive, professional presenting style.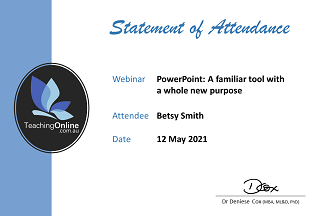 A Statement of Attendance is issued on completion of live event activities.
Note the recording of the live event will be available to all participants for 30 days only after the event.
Completion
The following statements are received when the course is completed:
| | |
| --- | --- |
| | Teaching Online - Statement of Attendance |