Great Trainers - Masters of Magic
Course
Guiding the Learner's Mental & Attitudinal States
Guiding the Learner's Mental and Attitudinal States to achieve the best learning outcome possible. If you are a great Trainer and Assessor, then here's a title to add to your resume - "Master of Magic". As a brilliant trainer you are, in effect, a 'Master Manipulator' or a "Master of Magic"; because in training, manipulation is the name of the game for an effective transfer of knowledge to occur.
"Manipulator?" I hear you say, "no, not me!"
Well, yes, it IS you, and there can be light and fun on the dark side - give it a try! The Experience of Learning is more than just consumption of information. For real learning and transfer of skills to occur, there must be a connection created within the learner's brain. Your role is to become a benevolent manipulator in making this magic happen. After all, successful learning is all about connecting brain cells. Learn how to be the master of that magic connection...
Book Early!  This live event is limited to 30 places only!
Webinar details
Date: Wednesday 15 September 2021
Time: 9.30am AEST (Sydney, Melbourne, Brisbane)
Duration: 1.5 Hours
Investment: $47.95 inc GST. 
 20% Discount! for VET PD Series subscribers - Use your Voucher Code when registering!
Our Presenter

Laurie Kelly
Laurie Kelly has been opening up the "mysteries of the mind" to trainers and educators from all walks of life around the world for most of his working life. He is a specialist in Brain-Friendly Training and Delivery Skills that engage. This has been his passion for over 30 years and his passion is drawn from his wealth of experience, his love for his subject and his ability to rekindle enthusiasm and passion in even the most tired Educator.
Recognised as a National and International Educator of Educators, he communicates his teachings to everyone at all levels, from CEO's to the people on the ground, whilst making it captivating, engaging, relevant and instantly transferable back into the workplace. Laurie is driven to improve the learning experience from a learner's perspective by making trainers more effective and impactful via enhanced & engaging delivery skills.
Laurie speaks both nationally and internationally on current knowledge of how the learning brain works to maximize the impact of teaching, and to create an openness factor in our approach to change and new learning. His experience in improving trainers' skills in engagement is vast – he is one of the most sought after presenters in his field.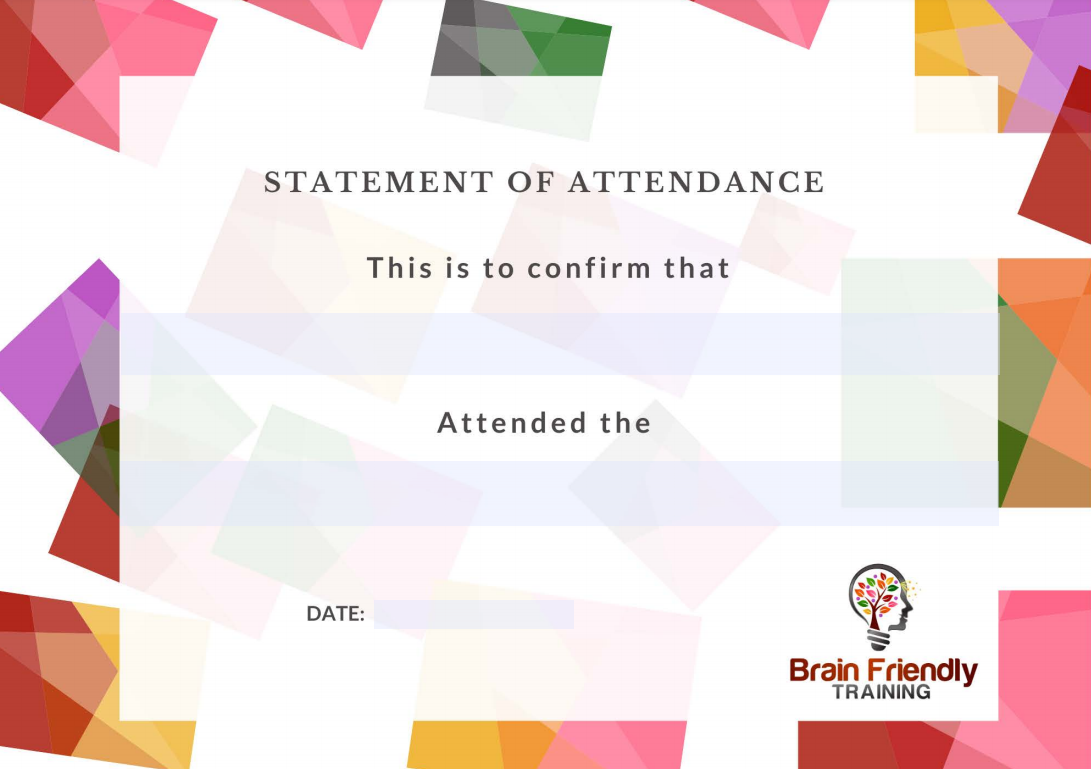 A Statement of Attendance is available for issue on completion of the event's activities. 
The recording of the live webinar will be available to participants for 30 days after the event.
Completion
The following statements are received when the course is completed:
| | |
| --- | --- |
| | Brain Friendly Training Statement of Attendance |