Building Resilience into Your Everyday
Course
Understand where resilience springs from
Resilience is often talked about, but not many people understand what it means to be resilient, and how it changes your life.
Resilience, or the ability to bounce back when setbacks happen – is a necessary skill for happiness and success in life.
Resilience doesn't just happen on its own by going through tough times though, it requires conscious nourishment of resilience skills, such as self-care, mindset, positive relationships and having a purpose.
Join Kath Knapsey for this interactive and enlightening webinar as she dives into what resilience really means; and discover opportunities to strengthen your own reserves.
Webinar details
Date: Friday 6 August 2021 - Please note that registrations close the day prior to the live event.
Time: 12.30pm AEST (Sydney, Melbourne, Brisbane)
Duration: 1 hour
Investment: $55.00 inc GST.
10% discount! for VET PD Series subscribers - Use your Voucher Code when registering!
Level
Introductory (new to the topic) - These sessions are aimed at practitioners that have a broad theoretical knowledge and practical experience of training and assessment. They operate independently and seek guidance when necessary. 
Audience
These sessions are for VET teachers, trainers, managers and team leaders.
Resilience based in compassion
Making resilience part of everyday life
Building resilience for you and others
Learning Outcomes
At the end of this session, participants will have an understanding of:
Understand where resilience springs from
Recognise opportunities to build resilience
Reframe events
Become a resilience builder
Presenters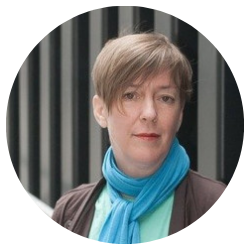 Kath Knapsey

Kath, Content Strategist, Writer, Editor and Workshop Facilitator. Getting to the heart of things is my whole reason for being. I'm curious, direct and love the written word for the clarity and truth it brings – when handled with care. Creating content never gets boring because to write about anything, you really need to get inside it, understand it, and recognise the key essentials so the focus of that analysis, video, report, blog, e-learning, presentation or script reaches its mark. And makes a difference.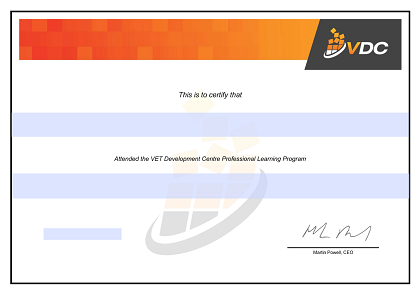 A Statement of Attendance is issued on completion of live event activities.
Note the video recording of the live event will be available to all participants within 7 days after the event.
Completion
The following statements are received when the course is completed:
| | |
| --- | --- |
| | VDC - Certificate of Attendance |