Live Polling: Your Gateway to Audience Engagement
Course
Experience several different poll types first-hand
We know that online participants are more likely to pay attention in your live session if they're actively involved. Furthermore, they're more likely to retain information if they have opportunities to assimilate ideas.
Yet let's face it, too often those mic's stay turned off and that chat-box stays empty.
Live Polling is the answer! Live polling is your gateway to engagement - students love the anonymity, and they respond to the change in pace that comes with using a variety of poll types. During this highly interactive webinar, you'll experience several different poll types first-hand. See how they work, get a feel for the student experience, and learn why some question types work better than others.
Note: You don't need to download any app's, but you will need access to an internet browser to access the polls via a website on the day (e.g. have your tablet, smart phone, or second screen ready to go).
Webinar details
Date: Wednesday 21 July 2021
Time: 2pm AEST (Sydney, Melbourne, Brisbane)
Duration: 1 hour
Investment: $55.00 inc GST.

 Book at least 7 days prior using the discount code  TO-POLL  to receive a 10% discount.
20% discount! for VET PD Series subscribers - Use your Voucher Code when registering!
Presenter

Deniese Cox
With a strong background in VET and corporate training, Deniese has been teaching online since 2013 for a variety of organisations in Australia and internationally. Today, through her consulting work at TeachingOnline.com.au, Deniese helps teams and individuals navigate the shift to online and technology-enhanced education.
Importantly, the strategies that Deniese shares are practical, proven, and driven by what's good for online teachers and students rather than technology-driven gimmicks or fads. That's only possible because Deniese is more than an experienced educator, she is also an active online VET researcher. This means that you get access to current relevant research that Deniese then presents in practical terms. Best of all, Deniese never asserts a one-size-fits-all approach – you'll walk always from her webinars knowing how to readily apply new ideas to your context and teaching style.
Feel free to see Deniese's full bio at https://www.teachingonline.com.au/about-me, or visit her testimonials page to see what other participants have said about her engaging workshops.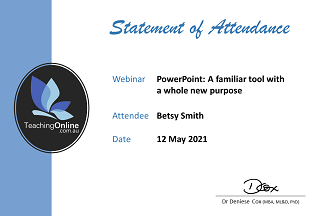 A Statement of Attendance is issued on completion of live event activities.
Note the recording of the live event will be available to all participants for 30 days only after the event.
Completion
The following statements are received when the course is completed:
| | |
| --- | --- |
| | Teaching Online - Statement of Attendance |