VET Chat: RPL Across the Globe
Course
Shares stories of RPL being effectively applied abroad
You're invited to join RPL program designer and researcher, Deb Carr, as she shares her insights and research from RPL practices and trends across the globe.
Deb has recently been invited by the International Labour Organisation (ILO) to contribute to a research paper and MOOCs course aimed at professionally developing RPL practitioners across the globe as well as building capacity for national systems to adopt and improve RPL systems.
This session shares stories of RPL being effectively applied abroad. Countries included in the Chat are Canada, Thailand, South Africa and more. Participants are invited to share their experiences of RPL being effectively applied abroad in the session.
Webinar details
Date: Wednesday 19 May 2021 - Please note that registrations close the day prior to the live event.
Time: 10am AEST (Sydney, Melbourne, Brisbane)
Duration: 30 Minutes
Investment: $15.00 inc GST. 
Audience
This session will be of interest to policy makers, transnational RTOs, ACE sector professionals working with new to Australia migrants and any VET practitioners looking for innovative ways to do RPL differently.
Understand international interest in RPL.
An awareness of success factors for RPL.
Innovative solutions to common RPL challenges.
Presenters

Debb Carr
Deb has worked in the VET sector for over a decade, and has developed and registered two accredited courses with ASQA and conducted internal audits for ACPET (ITECA) members.
As an instructional designer she has developed competency-based training and assessment resources for multitudes of qualifications and cohorts.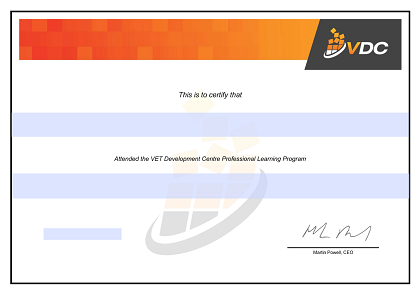 A Statement of Attendance is issued on completion of live event activities.
Note the recording of the live event will be available to all participants within 7 days after the event.
Completion
The following statements are received when the course is completed:
| | |
| --- | --- |
| | VDC - Certificate of Attendance |