Third Party Reports & Assessment
Course
A practice framework that promotes & sustains employer participation
Undertaking assessments in the workplace has many benefits. Not only does it allow students to demonstrate how they are meeting workplace expectations and job ready skills, but it also provides opportunities to nurture and sustain effective industry partnerships. Effective partnerships can extend to employer engagement in workplace assessment.
This webinar explores elements of a practice framework that promotes and sustains employer participation in assessment. We consider when workplaces are appropriate sites for assessment, assessors' responsibilities, constraints on employer participation, and strategies for workplace evidence gathering.
Participants will gain confidence in their role as a workplace assessor, and their rights, roles and obligations.
Webinar details
Date: Tuesday 25 May 2021 - Please note that registrations close the day prior to the live event.
Time: 12.30pm AEST (Sydney, Melbourne, Brisbane)
Duration: 1 hour
Investment: $55.00 inc GST.

 Book at least 7 days prior using the discount code  VDC-REPORTS  to receive a 10% discount.
20% discount! for VET PD Series subscribers - Use your Voucher Code when registering!
Level
Intermediate (build on your existing knowledge) Professional learning aimed at practitioners that have specialised theoretical knowledge and practical experience of training and assessment.
Audience
This session is best suited for Placement Coordinators, Assessors, Assessment Writers and Managers.
When you must use the workplace
Ensuring you don't ask non-assessors to make judgements
Guiding your students to provide appropriate evidence
Do's and don'ts in the workplace
The difference between observable and non-observable requirements
When simulation is a better option.
Learning Outcomes
Strategies for structuring your observation checklist
Understanding around what needs to be observed and what doesn't
Understanding when simulations should be used
Strategies for how to minimise obligations of the host
Knowing the difference between observation and judgement.
Presenters

Sarah Phillips
Sarah Phillips is the Director of Learning and Development at Pop Education. She is also the Coordinator of Teacher Education and Professional Development at Swinburne University of Technology PAVE.
Sarah has been working in the VET industry since 2005 and in that time held positions in a range of settings across private, Learn Local and TAFE in the fields of eLearning and VET Assessment. Sarah also spent 3 years working as the Victorian eLearning Coordinator and Content Services Advisor for the National VET eLearning strategy where she consulted on Strategic development with many industry and VET organisations.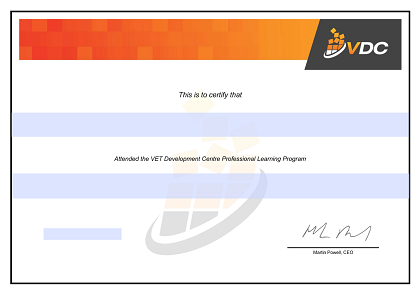 A Statement of Attendance is issued on completion of live event activities.
Note the recording of the live event will be available to all participants within 7 days after the event.
Completion
The following statements are received when the course is completed:
| | |
| --- | --- |
| | VDC - Certificate of Attendance |