Developing Effective Competency-Based Assessment Tools
Course
What competency-based assessment actually is
The assessment process tells the story of each student's progress – the skills and knowledge they've gained and the areas they need further development in to make them employment ready.
Designing effective competency-based assessments is essential to ensuring VET programs are meeting the needs of students, employers and the industry.
Join VET leader, Andrea Bateman for this engaging one-hour webinar to unpack the essentials of competency-based assessments and how it relates to the various assessment methods.
The group will break down what competency-based assessment actually is, and how different understandings and definitions can impact on the development of assessment tools and assessment methods.
Participants are encouraged to bring along one of their own assessment tools (instructions to assessors and candidates and assessors, all tasks and mapping if you have it) to use in the self-evaluation exercise.
Webinar details
Date: Thursday 13 May 2021 - Please note that registrations close the day prior to the live event.
Time: 12.30pm AEST (Sydney, Melbourne, Brisbane)
Duration: 1 hour
Investment: $55.00 inc GST.

 Book at least 7 days prior using the discount code  DC-EFFECTIVE  to receive a 10% discount.
20% discount! for VET PD Series subscribers - Use your Voucher Code when registering!
Level
Intermediate (build on your existing knowledge). Professional learning aimed at practitioners that have specialised theoretical knowledge and practical experience of training and assessment.
Audience
This webinar is focused on developers of assessment tools and quality assurance personnel.
Competency based assessment
Definition of assessment tool
Identifying appropriate assessment methods
How the definition affects the development of assessment tools.
Learning Outcomes
Improved understanding of competency-based assessment
Improved capacity to enhance own assessment tools.
Presenters

Andrea Bateman
Andrea is an Australian VET leader in the field of assessment and quality assurance. She specialises in providing educational organisations with advice on complex assessment and auditing issues. Andrea has provided clear frameworks for both policy makers and practitioners, and is an experienced auditor.
She has extensive experience in conducting audits including compliance, strategic, investigative and CRICOS audits.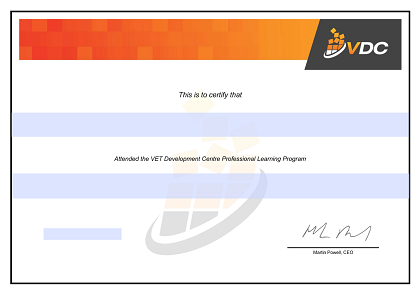 A Statement of Attendance is issued on completion of live event activities.
Note the video recording of the live event will be available to all participants within 7 days after the event.
Completion
The following statements are received when the course is completed:
| | |
| --- | --- |
| | VDC - Certificate of Attendance |