vetr uses a range of technology in the vetr portal to support live webinar events.
BigMarker Webinar Solution
For various webinar events, vetr is using the awesome global #1 rated BigMarker Webinar Solution.
BigMarker doesn't require any additional App or popup - it runs straight in your browser. BigMarker allows us to stream live events direct to you in the vetr portal. But you can also watch events via your free BigMarker access. To join a webinar, you need to be on an up-to-date web browser (we suggest Chrome) and have an internet speed of 2Mbps+ (so small!).
You can do a quick System Check to make sure you're right to go.
If you think your organisation's network or firewall might be blocking your access (how weird) there's some further information & steps to explore.
Confirm your Bigmarker access!
When you first register for an event, you will receive a registration confirmation email asking you to Confirm your BigMarker access. It is important that you click on this and confirm your access on the device and in the browser that you intend to use on the event day. While you will receive further reminder as the event is about to commence, confiming early might avoid any last minute tech challenges.
You'll know your access is confirmed as the webinar screen will display a confirmation message, like in the green section below.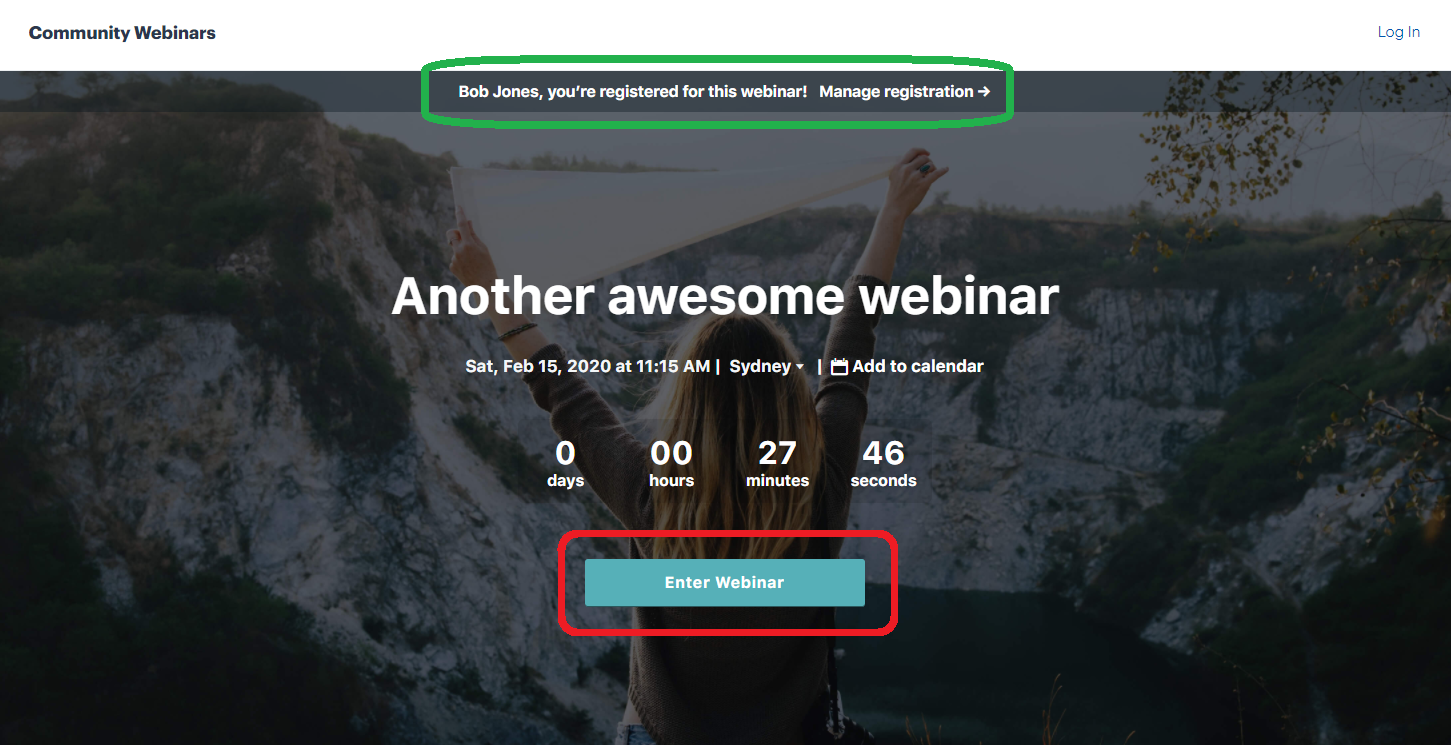 When the webinar access is available (30 minutes prior to the session) an "Enter Webinar" button will appear, as shown in the red section above.
You need to click on Enter Webinar in order to enter the waiting room.
Audio 
vetr events provide a short video for audio sound check in the webinar waiting room. 
You will see the video play, and you should "Click for audio" using the button in bottom right of your screen, as shown below.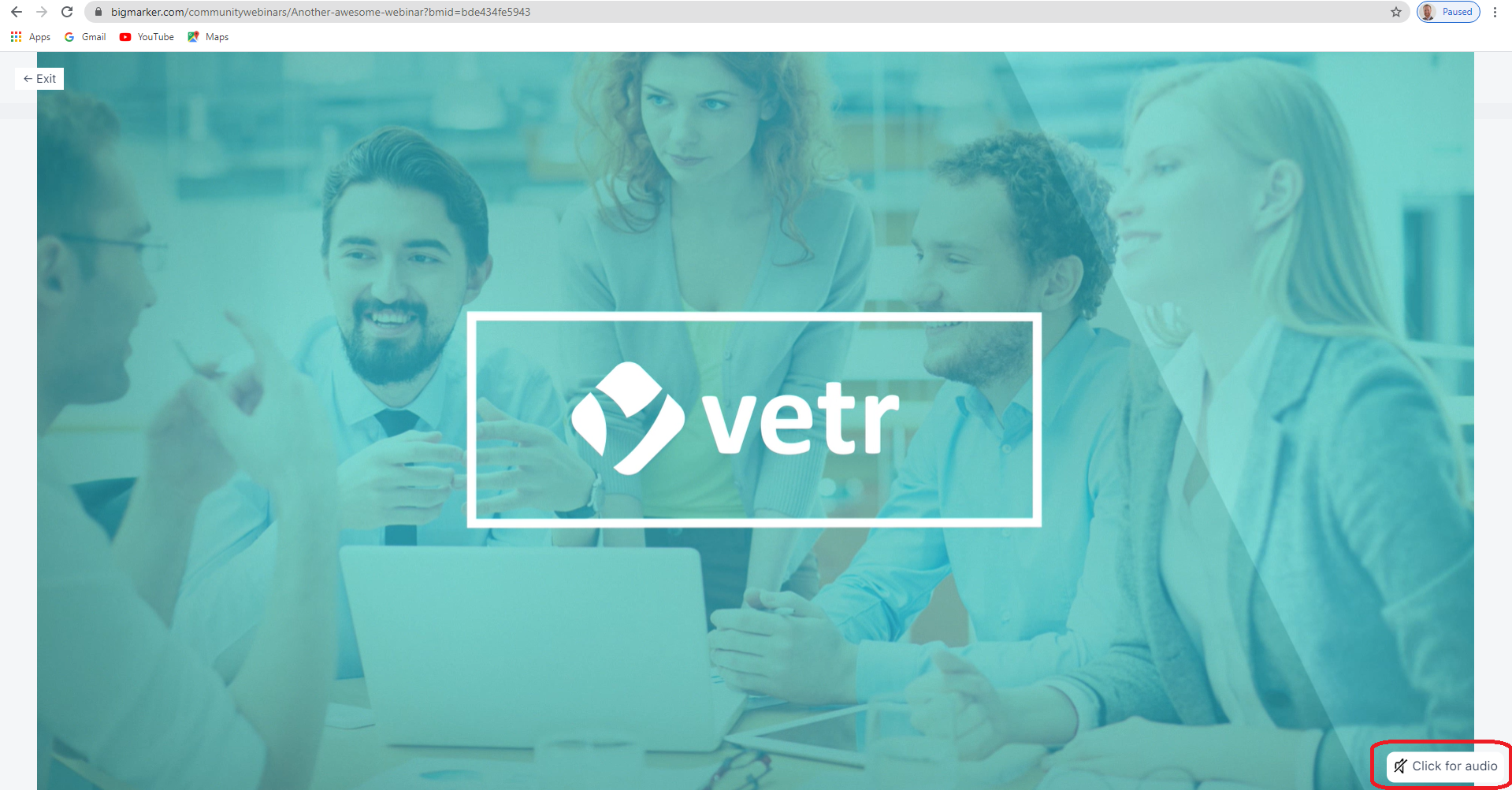 Once the webinar commences, depending on what browser you are using you might again be prompted to "Click for Audio."
Slido - Audience Participation
vetr currently uses the Slido participation tool on a range of events, such as our Compliance over Coffee live shows.
Access is free and provides a range of features such as chat, polls, information sharing etc for our live audiences during webinars.
Watch this short video for further information on how to participate.
Crowdcast Webinar Solution
vetr uses the global Crowdcast live broadcast streaming solution for various live stream events, such as our Compliance over Coffee live shows!
Crowdcast allows us to stream live events direct to you in the vetr portal. But you can also watch events via your free Crowdcast access.
You do need to ensure you have access Crowdcast if it is being used for an event you have registered for.
The easiest way to handle this is to setup a password in your Crowdcast account - and we suggest use the same password as your vetr portal password.
When first registering for a vetr live webinar, you will receive a confirmation link and your email address will be used to setup your Crowdcast account.
We strongly recommend you setup a password on your Crowdcast account access.
When you are logged in to your Crowdcast account...
Open to top left menu: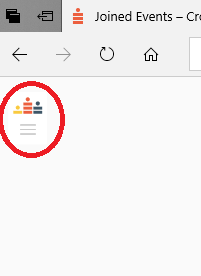 And then select "Settings"

In the settings area you can set your own password.
Setting your own password means that for all future events you will be able to login to the event using this password without needing to use the "Crowdcast Magic Link" feature to recover your access.
You may also wish to have your internet browser save these details so there is not the need to login on every occasion.
We look forward to seeing you on upcoming live events!