Take Control with RIGOR
Course
Learn how to inject more motivating purpose into your actions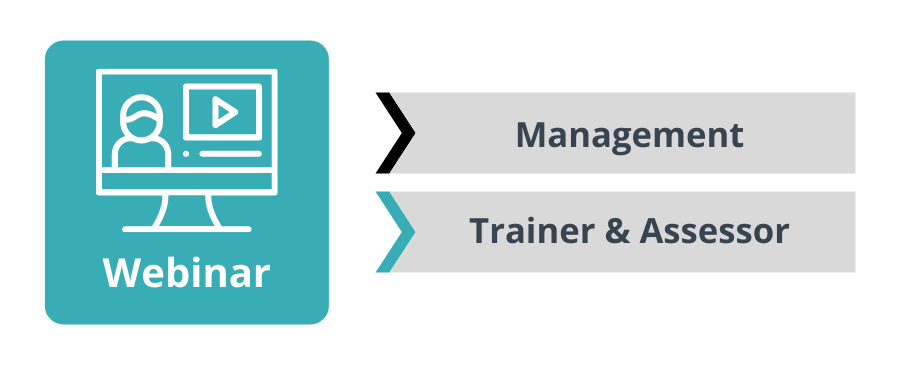 For many people, too much time and energy is wasted feeling frustrated or distracted by problems. RIGOR is my user-friendly problem-processing technique that gives you back control so you can focus on the things that matter.
At work, home, and anywhere in between, applying the RIGOR technique will help you more efficiently identify ideals, clarify options, optimise decision-making, and connect with what matters.
Big problems and small, roadblocks and dilemmas, RIGOR also works brilliantly when collaborating with others.
Learn the RIGOR technique and start focusing on what matters!
Hi – I'm Dr Deniese Cox, and I know how it feels when our reality doesn't quite match our ideal. I too used to struggle with losing too much time processing problems, spending too much energy navigating my way through challenges, and feeling frustrated at not being able to focus on the things I really wanted to be focusing on. So, over several years, I spent hundreds of hours researching and designing the solution that is the RIGOR technique.

The RIGOR technique has since helped thousands of people take control by learning to process problems in an efficient and effective way. Even the most experienced and confident problem solvers have embraced the RIGOR technique.
I can't wait to share it with you at this interactive 2-hr webinar.
Here you'll learn the user-friendly 5-step RIGOR technique and will be immediately able to start applying it to all aspects of your life. You'll be confident to identify your ideals and optimise decision-making.

You'll then learn all about the embedded 4-stage processing path we all navigate everyday. This will give you the power to better control how you're affected by (and respond to) challenges, situations, and people around you. Learning how to identify then wrangle the 3 F's of reactions will give you even more control over how you focus your time and energy towards what matters.

You'll also learn how to inject more motivating purpose into your actions, and will learn advanced RIGOR techniques to let go of non-serving beliefs. At the end of this session you really will be ready to embrace and pursue your ideals.
Webinar details
Date: Friday 4 November 2022 
Time: 12pm AEDT (Sydney, Melbourne)
Duration: 1 hours 30 minutes
Investment: $95.00 inc GST.
10% discount! for VET PD Series subscribers - Use your Voucher Code when registering!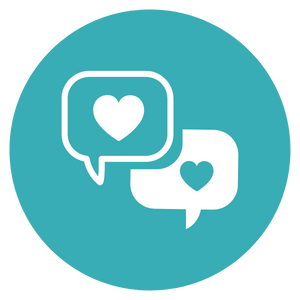 What participants' said previously when this topic ran
I went from reluctant sceptic to not being able to stop talking about these ideas
You won't regret spending an afternoon with Deniese and these tools, this RIGOR technique really does work
Now a staple tool throughout our entire organisation
So much more than I expected, absolutely brilliant
I've seen a marked improvement in my job satisfaction, and basically how I approach every day
My family can't stop commenting about how much happier I am, and how much more relaxed I am despite still keeping a hectic schedule.
Simply inspirational
Life changing – two words I never thought I'd say after a PD event :)
Presenter

Dr Deniese Cox - Founder, TeachingOnline.com.au 
Deniese is the go-to source for exceptional online strategies that really are effective. With extensive hands-on experience of her own plus a Masters in online learning and a PhD in online teaching, Deniese is the perfect partner for VET educators wanting to cut through noise around online education. We can't stress enough how highly interactive and engaging her webinars are, and we know you'll always learn practical, proven strategies that can easily be adapted to meet the needs of your unique context.
Every strategy presented by Deniese has been researched, trialled, refined, and proven to work in a variety of settings by diverse VET educators and students. It's Deniese's ongoing research in this space that enables her to bring you the latest insights, and is what sets her apart.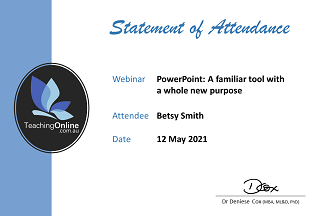 A Statement of Attendance is issued on completion of live event activities.
Note the recording of the live event will be available to all participants for 30 days only after the event.
Completion
The following statements are received when the course is completed:
| | |
| --- | --- |
| | Teaching Online - Statement of Attendance |