Click-Worthy Learning Content
Course
Observed online student behaviour & engagement
It's frustrating when we put effort into creating high quality learning content only for students to not bother clicking on it. That content might include readings, videos, learning activities, or even attending live sessions.
This webinar is built from research that observed online student behaviour and engagement, and interviewed students about why different content yielded different attention.
The resulting strategies are what you'll be learning in this webinar. These strategies have been shown to significantly increase student engagement with content – implement these and you'll immediately see an increase in how much key content is accessed by more students.
Discussion forums are a specific type of learning activity. While the first part of this webinar is about getting students to click on key content, in this second part we'll focus on the nature of discussion forums once you have captured student attention. You'll learn the differences between deep participation and superficial 'likes', and will be able to spot discussion champions, strikers, hustlers, and bench-sitters. Importantly, you will learn to plan what kind of participation you're seeking. These learnings are drawn from my published research in this space, and participants will understand how to design for, and coach students toward, authentic engagement in online discussion spaces.
A workbook that features planning tools will be emailed out ahead of the session, and includes a link to bonus content about how to take effective notes.
Previous participants say...
It's been a week since this session, and I'm seeing an extraordinary difference in student behaviour – wish I'd learned this a year ago
I really appreciate that Deniese takes the time to answer questions and get us involved 
I'll definitely be implementing all of these ideas throughout our group asap
Webinar details
Date: Wednesday 13 October 2021
Time: 3.30pm AEDT (Sydney, Melbourne)
Duration: 1.5 hours
Investment: $55.00 inc GST.
20% discount! for VET PD Series subscribers - Use your Voucher Code when registering!
Presenter

Dr Deniese Cox
With a strong background in VET and corporate training, Deniese has been teaching online since 2013 for a variety of organisations in Australia and internationally. Today, through her consulting work at TeachingOnline.com.au, Deniese helps teams and individuals navigate the shift to online education.
Importantly, the strategies that Deniese shares are practical, proven, and driven by what's good for online students and teachers, rather than by technology-driven gimmicks or fads. That's only possible because Deniese is more than an experienced educator, she is also an active online VET researcher. This means that you get access to current best-practice research which Deniese then presents in practical terms. Best of all, Deniese never asserts a one-size-fits-all approach – you'll walk always from her webinars knowing how to readily apply new ideas to your context and teaching style.
Feel free to see Deniese's full bio at https://www.teachingonline.com.au/about-me or visit her testimonials page to see what other participants have said about her engaging workshops. We love the feedback after Deniese's sessions - everyone is always so positive about her work and energised by her interactive, professional presenting style.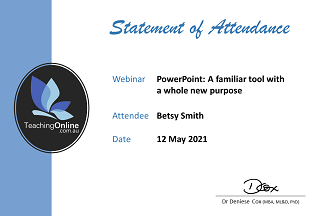 A Statement of Attendance is issued on completion of live event activities.
Note the recording of the live event will be available to all participants for 30 days only after the event.
Completion
The following statements are received when the course is completed:
| | |
| --- | --- |
| | Teaching Online - Statement of Attendance |