Take Control with RIGOR
Course
Registration for this course is currently closed.
Use variations of the RIGOR™ tool to choose between options,
My research has shown that one reason many educators become frustrated with their role is because their enacted practice doesn't fit their ideal. The reason for that misalignment is often a gap in knowledge, resources, or expectations. The RIGOR™ problem-processing tool is especially useful for educators to better understand and take control of situations and improve their role satisfaction.
RIGOR™ is efficient, effective, easy to master, and makes an exceptional self-reflection tool, a conversation-starter among colleagues, or a performance-discussion tool with team members.
This first part of this workshop will introduce you to typical gaps between ideal and enacted practice experienced by educators. Then, the foundation RIGOR™ problem-processing tool and accompanying worksheet is introduced. Taking things to the next level, you'll then experience how to use variations of this tool to process choosing between two options, managing misaligned expectations at work, and reflecting on implemented teaching strategies.
After this workshop, you'll find yourself using the provided worksheets again and again, and will soon embrace this user-friendly approach to processing problems and challenges rather than bogging down in perceived constraints.
While written for educators, the RIGOR™ framework is suitable for team members from all departments – why don't you bring a group along!
A workbook full of reusable tools will be emailed out ahead of the session, and includes a link to bonus content about how to take effective notes
After attending this introductory workshop, you'll be eligible to register to attend the advanced session (each session is $55 if booked separately, or $95 if booked as a pair up front).
In the second session, being held a week later, you will learn the typical 4-stage processing path we all move through many times a day. Then, you'll come to understand the 3 F's of emotion-driven reactions, and learn strategies to take control of how you respond. You will be guided in how to use the provided RIGORTM worksheets to process motivational blocks and set lifestyle goals. To demonstrate how these work, I'll share my own personal story of developing and using these advanced RIGORTM techniques to transition from being in a wheelchair to not only now be up walking, but now living an active life with few restrictions.
Previous participants say…
You won't regret spending an afternoon with Deniese and these tools, this RIGOR™ technique really does work
I went from reluctant sceptic to not being able to stop talking about these ideas 
So much more than I expected, absolutely brilliant
Webinar details
Date: Wednesday 29 September 2021
Time: 2.30pm AEST (Sydney, Melbourne, Brisbane)
Duration: 1 hour, 30 minutes
Investment: $55.00 inc GST.
20% discount! for VET PD Series subscribers - Use your Voucher Code when registering!
Presenter

Dr Deniese Cox
With a strong background in VET and corporate training, Deniese has been teaching online since 2013 for a variety of organisations in Australia and internationally. Today, through her consulting work at TeachingOnline.com.au, Deniese helps teams and individuals navigate the shift to online education.
Importantly, the strategies that Deniese shares are practical, proven, and driven by what's good for online students and teachers, rather than by technology-driven gimmicks or fads. That's only possible because Deniese is more than an experienced educator, she is also an active online VET researcher. This means that you get access to current best-practice research which Deniese then presents in practical terms. Best of all, Deniese never asserts a one-size-fits-all approach – you'll walk always from her webinars knowing how to readily apply new ideas to your context and teaching style.
Feel free to see Deniese's full bio at https://www.teachingonline.com.au/about-me or visit her testimonials page to see what other participants have said about her engaging workshops. We love the feedback after Deniese's sessions - everyone is always so positive about her work and energised by her interactive, professional presenting style.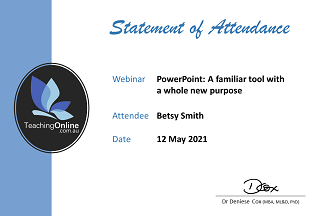 A Statement of Attendance is issued on completion of live event activities.
Note the recording of the live event will be available to all participants for 30 days only after the event.
Completion
The following statements are received when the course is completed:
| | |
| --- | --- |
| | Teaching Online - Statement of Attendance |