Embed Learning - Build Confidence
Course

Building-in lifetime retention of knowledge
Build Confidence - Building Retention of Content with a 6 step approach.
To be sure, demonstrating competency is vital during assessment, but building in lifetime retention of knowledge is a true gift. Demonstrating skills in an exam is fine, but actually using these skills confidently and accurately in the workplace is the goal of a dedicated trainer.
By incorporating our simple six step process in your training delivery, you can help you students to have lifetime mastery of any skills (because it's not what you are teaching, it's how you teach it !) You can also assist to embed that learning easily so that you are not constantly going back over previous content, again and again. There are various ways you can help this recall and retention, without your students even realising that's what you are doing, and it absolutely works, and it's a lot of fun for you and them! In this webinar, expect to experience these methods for yourself and realise how much it improves your own memory recall.
Being able to subtly use simple and effective retention and recall exercises with your students will give you the satisfaction of knowing that your efforts in planning and research will not be wasted; students won't fail to recall, and will intuitively use, the skills you have been teaching. Educators who fail to build retention and recall exercises into their delivery run the risk of their efforts and teaching being forgotten and lost in the massive amount of information students have to deal with each day. In this webinar I have highlighted all that you will need to help design effective information recall into your learning programs, using regularly spaced revision activities with your students throughout your sessions, using a variety of tools that ensures student enjoyment through fun engagement. Join this webinar and get the skills to build their retention.
Book Early!  This live event is limited to 30 places only!
Webinar details
Date: Wednesday 24 November 2021
Time: 10.30am AEDT (Sydney, Melbourne)
Duration: 1.5 Hours
Investment: $47.95 inc GST. 
20% discount! for VET PD Series subscribers - Use your Voucher Code when registering!
You will learn ABOUT and how to USE the following:
 Understanding the importance of ongoing, built-in Retention and Revision activities throughout your sessions so your efforts are not forgotten by the learners
Learning a host of FUN, tried, tested and true activities designed to cement and recall information, easily and for the long term
Renowned Educator, Tony Buzan, the inventor of the term Mind Maps, believes symbols and drawings can vastly improve retention.  The good news is that your drawing skills don't have to be brilliant to be effective
The importance of music in learning to help with memory retention
Effectively using both hemispheres of the learner's brain with Clustering, Storyboarding, Brain Dumping and Mind Mapping to build retention
How vital it is to record the success stories of your students to build their confidence (and that of other participants) so that your material is real and relevant
Looking at how you currently review, recall, revise or revisit – and making it more effective
Fun ways to stretch minds and extend the consolidation of learning
Training delivery skills interwoven with engaging, brain targeted focus to build retention and confident implementation of the skills you have been teaching
Our Presenter

Laurie Kelly
Laurie Kelly has been opening up the "mysteries of the mind" to trainers and educators from all walks of life around the world for most of his working life. He is a specialist in Brain-Friendly Training and Delivery Skills that engage. This has been his passion for over 30 years and his passion is drawn from his wealth of experience, his love for his subject and his ability to rekindle enthusiasm and passion in even the most tired Educator.
Recognised as a National and International Educator of Educators, he communicates his teachings to everyone at all levels, from CEO's to the people on the ground, whilst making it captivating, engaging, relevant and instantly transferable back into the workplace. Laurie is driven to improve the learning experience from a learner's perspective by making trainers more effective and impactful via enhanced & engaging delivery skills.
Laurie speaks both nationally and internationally on current knowledge of how the learning brain works to maximize the impact of teaching, and to create an openness factor in our approach to change and new learning. His experience in improving trainers' skills in engagement is vast – he is one of the most sought after presenters in his field.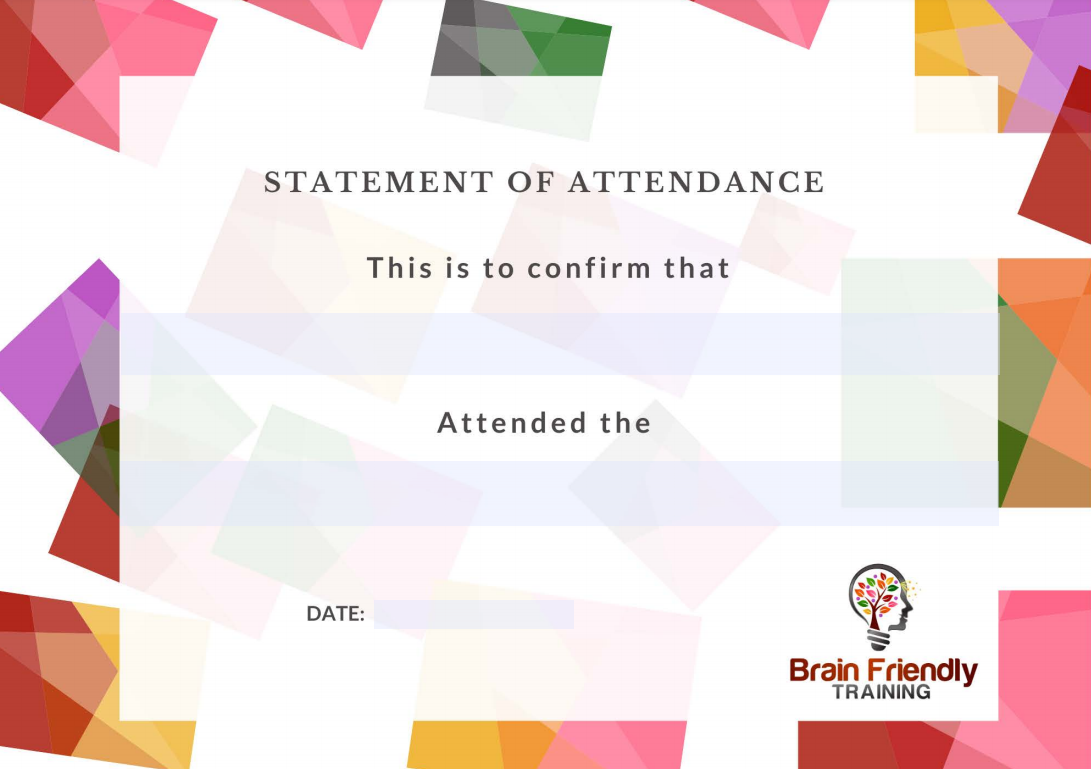 A Statement of Attendance is available for issue on completion of the event's activities. 
The recording of the live webinar will be available to participants for 30 days after the event.
Completion
The following statements are received when the course is completed:
| | |
| --- | --- |
| | Brain Friendly Training Statement of Attendance |