Next Level Presenting with DIY Green Screen
Course
What can be achieved by having a simple green screen setup
Have you been wanting to take your online presentations or recordings to the next level? Are you curious about whether to add a green screen to your workspace?
In this informational webinar, you'll see what can be achieved by having a simple green screen setup. No fancy video editing, no hours spent cutting and splicing things together ... just simple live and recorded one-take wonders.
I'll share not only what's possible, but also the 8 equipment and software needs to consider before installing a green screen.
Webinar details
Date: Wednesday 9 June 2021
Time: 2pm AEST (Sydney, Melbourne, Brisbane)
Duration: 45 Minutes
Investment: $25.00 inc GST.
20% discount! for VET PD Series subscribers - Use your Voucher Code when registering!
Presenter

Deniese Cox
With a strong background in VET and corporate training, Deniese has been teaching online since 2013 for a variety of organisations in Australia and internationally. Today, through her consulting work at TeachingOnline.com.au, Deniese helps teams and individuals navigate the shift to online and technology-enhanced education.
Importantly, the strategies that Deniese shares are practical, proven, and driven by what's good for online teachers and students rather than technology-driven gimmicks or fads. That's only possible because Deniese is more than an experienced educator, she is also an active online VET researcher. This means that you get access to current relevant research that Deniese then presents in practical terms. Best of all, Deniese never asserts a one-size-fits-all approach – you'll walk always from her webinars knowing how to readily apply new ideas to your context and teaching style.
Feel free to see Deniese's full bio at https://www.teachingonline.com.au/about-me, or visit her testimonials page to see what other participants have said about her engaging workshops.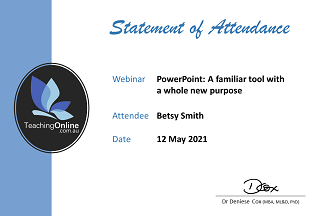 A Statement of Attendance is issued on completion of live event activities.
Note the recording of the live event will be available to all participants for 30 days only after the event.
Completion
The following statements are received when the course is completed:
| | |
| --- | --- |
| | Teaching Online - Statement of Attendance |