Assessing Online Tips & Tricks for Ticking all the Boxes
Course
Collecting compliant assessment evidence
Traditional assessment and evaluation methods have been rapidly replaced with online variations with a shift to remote learning. While eAssessments have opened up a whole new world of options, practitioners still need to ensure that they are meeting compliance obligations for fairness, reliability and validity.
In this interactive webinar, innovative VET expert Shauna Farey presents a range of online tools and apps for eAssessments and shares how to critique each on their features and benefits.
Throughout the session, participants will be introduced to practical implementation tips, strategies to move from traditional assessments to making your online assessments engaging and meaningful. Participants are encouraged to share any useful apps they currently use with the group as part of this session.
Webinar details
Date: Thursday 3 June 2021 - Please note that registrations close the day prior to the live event.
Time: 12.30pm AEST (Sydney, Melbourne, Brisbane)
Duration: 1 hour
Investment: $55.00 inc GST.

 Book at least 7 days prior using the discount code  VDC-ASSESS  to receive a 10% discount.
20% discount! for VET PD Series subscribers - Use your Voucher Code when registering!
Level
Intermediate (build on your existing knowledge). Professional learning aimed at practitioners that have specialised theoretical knowledge and practical experience of training and assessment.
Audience
This webinar is suited for VET teachers, trainers and educators.
Tools and apps for Assessment
Choosing the right tool for each method of assessment
Keeping your learners safe and engaged Providing feedback online
Learning Outcomes
Collecting compliant assessment evidence
Giving timely feedback in an online environment
Presenters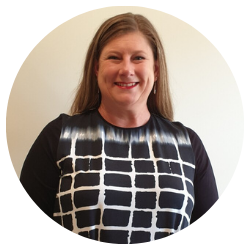 Shauna Farey

Shauna Farey has worked in the VET industry since 2008. She embraced eLearning early in her career and has facilitated many courses in a range of different online platforms.
Over the years Shauna has worked for a variety of Learn Local, TAFE and private organisations in a range of roles including trainer and assessor, training manager, high level course designer and assessment writer. Shauna is constantly on the lookout for innovative and creative solutions to capture assessment evidence whilst keeping her learners engaged.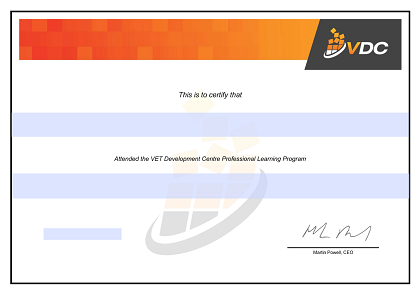 A Statement of Attendance is issued on completion of live event activities.
Note the video recording of the live event will be available to all participants within 7 days after the event.
Completion
The following statements are received when the course is completed:
| | |
| --- | --- |
| | VDC - Certificate of Attendance |