VET Chat: Positive Behavioural Change
Course
Embrace more positive & sustainable behaviours through self-awareness.
As we move through the initial turmoil and upheaval of the past year, we are now starting to find a new 'normal'.
However, the fears, uncertainty and stress remain, sometimes causing negative behaviours in ourselves and others. Over time, this negativity can sap our confidence, demotivate teams and even damage valuable business relationships.
Join Martin Probst in this VET chat to discuss how we can move forward, even with uncertainty, to find a new post-COVID normal. Participants will learn how to embrace more positive and sustainable behaviours through self-awareness.
Webinar details
Date: Wednesday 26 May 2021 - Please note that registrations close the day prior to the live event.
Time: 10:00am AEST (Sydney, Melbourne, Brisbane)
Duration: 30 Minutes
Investment: $15.00 inc GST.
Audience
These sessions are suited for all VET teachers, trainers and educators, frontline managers and senior managers.
Insights into how emotions are linked to human behaviours
Heightened self-awareness to better deal with challenging behaviours in times of uncertainty.
Presenters

Martin Probst
Martin has been working within the Vocational Education and Training environment for more than 15 years. His latest achievement is the "Learning Professional of the Year" award at the 2019 Australian Learning Impact Awards. 
Martin specialises in delivering fun and practical high impact training that can be applied in the workplace with immediate results.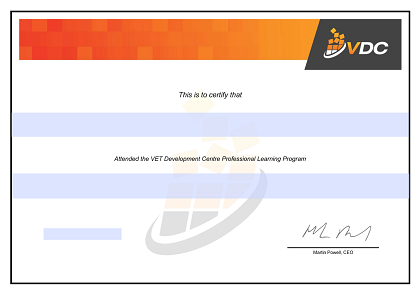 A Statement of Attendance is issued on completion of live event activities.
Note the recording of the live event will be available to all participants within 7 days after the event.
Completion
The following statements are received when the course is completed:
| | |
| --- | --- |
| | VDC - Certificate of Attendance |