VET Chat: Adult Learning Principles Revisited
Course
Highlight some recent research and insights into adult learning & performance
Want some strategies to help learners remember what they learn, and ultimately do what you teach them?
In this VET Chat, learning and performance freelancer Chemène Sinson will highlight some recent research and insights into adult learning and performance, and offer some practical suggestions to incorporate these insights into your learning programs.
Webinar details
Date: Wednesday 2 June 2021 - Please note that registrations close the day prior to the live event.
Time: 10am AEST (Sydney, Melbourne, Brisbane)
Duration: 30 Minutes
Investment: $15.00 inc GST.
Audience
These sessions are suited for all VET teachers, trainers and educators, frontline managers and senior managers.
Insights into adult learning and performance
Practical suggestions to implement in your teaching program
Presenters

Chemène Sinson 
Chemène specialises in education, learning and performance across various educational sectors, both within Australia and internationally.
A former teacher, sport coach and now vocational training specialist, Chemène helps individuals build the essential skills needed to thrive in today's constantly-evolving world of work.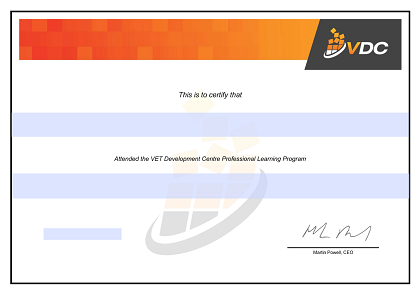 A Statement of Attendance is issued on completion of live event activities.
Note the recording of the live event will be available to all participants within 7 days after the event.
Completion
The following statements are received when the course is completed:
| | |
| --- | --- |
| | VDC - Certificate of Attendance |