Effective Industry Engagement Strategies
Course
Industry as a whole reaps the rewards
Effective industry engagement brings benefits to everyone in the VET sector when it works. Students gain relevant experience and skills that make them competitive employees, employers enjoy a more highly skilled workforce and the industry as a whole reaps the rewards of having future focussed training in the VET sector.
This session will review the current compliance requirements and provide a range of industry engagement strategies for different RTO settings and industries.
In this interactive webinar, participants will engage in a dynamic training experience using polls and collective knowledge to learn together.
Webinar details
Date: Thursday 20 May 2021 - Please note that registrations close the day prior to the live event.
Time: 12.30pm AEST (Sydney, Melbourne, Brisbane)
Duration: 1 hour 
Investment: $55.00 inc GST.

 Book at least 7 days prior using the discount code  VDC-INDUSTRY  to receive a 10% discount.
20% discount! for VET PD Series subscribers - Use your Voucher Code when registering!
Level
Intermediate (build on your existing knowledge). Professional learning aimed at practitioners that have specialised theoretical knowledge and practical experience of training and assessment.
Audience
This webinar is suited for VET teachers, trainers and educators, frontline managers and senior managers.
Requirements of the Standards for RTOs 2015
Strategies for engagement
Deciding on effective options
Evidence requirements
Q&A
Learning Outcomes
Understanding of industry engagement requirements
Knowledge to make informed decisions about the best engagement strategy for the RTO
Opportunity to ask questions around engagement activities.
Presenters

Kerri Buttery

Kerri has worked in the Australian education sector for more than two decades. She brings her enthusiasm for integrating technology in training and has completed university studies in education, information technology and eLearning.
After more than a decade leading professional development sessions, Kerri founded VETNexus, an organisation that provides consulting services in the creation and adoption of eLearning strategies.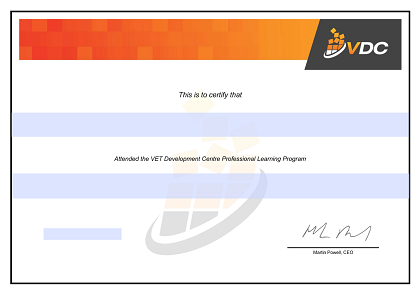 A Statement of Attendance is issued on completion of live event activities.
Note the video recording of the live event will be available to all participants within 7 days after the event.
Completion
The following statements are received when the course is completed:
| | |
| --- | --- |
| | VDC - Certificate of Attendance |