Volume of Learning & Amount of Training: The 'Constant' & the 'Variable'
Course

Enable a learner to gain the skills & knowledge specified in the relevant training product
Your RTO must ensure the 'Amount of Training' you provide is sufficient to enable a learner to gain the skills and knowledge specified in the relevant training product in order to prepare them to be assessed as competent. This is dependent on the cohort and the characteristics that influence the development of the structure of the Training and Assessment Strategy.
Unpacking the specific and important differences between cohorts for the same training product will be used to explain the relationship between the 'Volume of Learning' and the 'Amount of Training'.
Key topics to be covered in the webinar:
Clarification of what the 'big difference' really is and the solutions that apply
Creating a clearly defined 'directed and structured' approach to delivery and assessment that support the 'Amount of Training' is described in the TAS
Consideration of the 'Amount of Training' and 'Volume of Learning' for training products that are single units or Skill Sets"
Webinar details
Date: Thursday 27 May 2021
Time: 2pm AEST (Melbourne, Sydney, Brisbane)
Duration: 1 hour
Investment: $55.00 inc GST.

 Book at least 7 days prior using the discount code  TVG-CONSTANT  to receive a 10% discount.
20% discount for VET PD Series subscribers - Use your Voucher Code when registering!
Presenter

John Price
John started his career in education and training over 40 years ago. He became a TAFE Queensland Professional Development Coordinator and mentored many new TAFE teachers through their Diploma in Technical and Further Education. He left TAFE in 1987 and in conjunction with InPrint Limited, one of Australia's finest printers, established Australia's first high technology training centre in industry for printing and graphic arts in 1988.

Since then he has assisted hundreds of organisations to gain registration as an RTO against the training standards established in the 1990s through to today, and regularly assists RTOs to maintain compliance of their quality system through internal auditing and in-house professional development. He currently presents workshops nationally and internationally on a range of professional development topics to assist trainers and assessors to maintain their current skills and knowledge in vocational teaching and learning. These topics include: Systematic validation of assessment; developing assessment tools, internal auditing, trainer and assessor currency, engaging with learners; and developing efficient and effective RPL assessments. He is a co-founder and partner of The VET Gurus.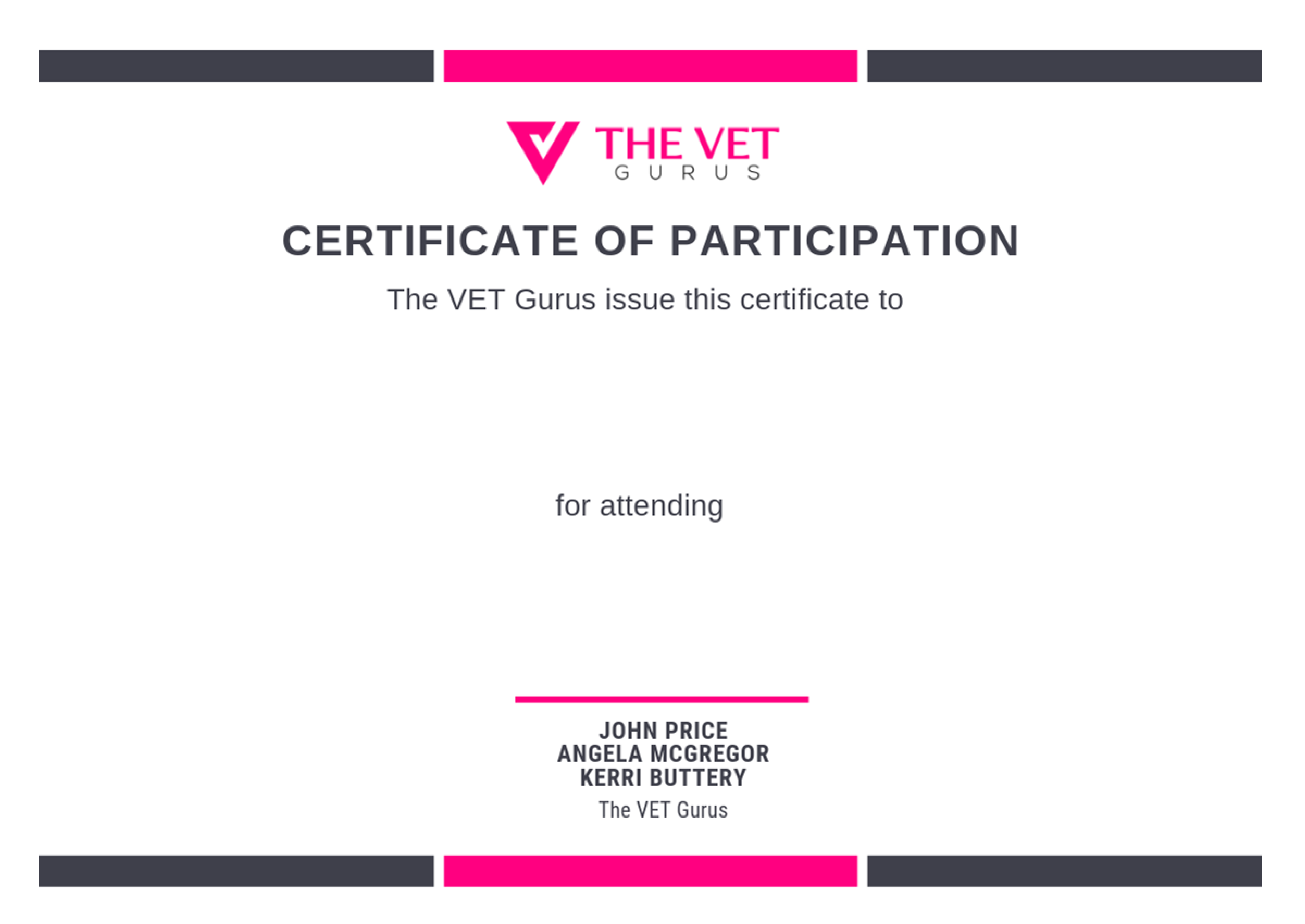 A Statement of Attendance is issued on completion of live event activities.
Note the recording of the live event will be available to all participants for 30 days only after the event.
Completion
The following statements are received when the course is completed:
| | |
| --- | --- |
| | The VET Gurus Certificate of Participation |