Click-Worthy Content - Webinar Bundle!
Bundle

Transform your content to become more click-worthy
With the increase in self-paced and stand-alone online content, it's more important than ever that we understand how to pitch each element to students so they actually engage with it. These two webinars will help you transform your content to become more click-worthy, resulting in more students engaging with more content more often.
It's frustrating when we put effort into creating high quality online learning content only for students to not bother clicking on it. Learn 3 strategies that have been proven to significantly increase student engagement with content. Implement these strategies and you'll immediately see an increase in how much of your content is accessed by more students.
Many of today's students expect to see pre-recorded video content as part of their learning materials. They want to watch your presentations in their own time, and they want to revisit key concepts on demand. Yet those same students are saying that teacher-made videos are missing the mark. Unwatched videos represent wasted resources, time, and effort.
Take-home worksheets included!
#1 - Is your Fantastic Online Content Going Unclicked? 
#2 - Guidelines for Pre-recorded Video Content that Students will Actually Watch

This webinar series pair are the 2PM AEST sessions, comprises 2x digital live webinar sessions.
Investment: $88.00 inc GST.  
Presenter

Deniese Cox
With a strong background in VET and corporate training, Deniese has been teaching online since 2013 for a variety of organisations in Australia and internationally. Today, through her consulting work at TeachingOnline.com.au, Deniese helps teams and individuals navigate the shift to online and technology-enhanced education.
Importantly, the strategies that Deniese shares are practical, proven, and driven by what's good for online teachers and students rather than technology-driven gimmicks or fads. That's only possible because Deniese is more than an experienced educator, she is also an active online VET researcher. This means that you get access to current relevant research that Deniese then presents in practical terms. Best of all, Deniese never asserts a one-size-fits-all approach – you'll walk always from her webinars knowing how to readily apply new ideas to your context and teaching style.
Feel free to see Deniese's full bio at https://www.teachingonline.com.au/about-me, or visit her testimonials page to see what other participants have said about her engaging workshops.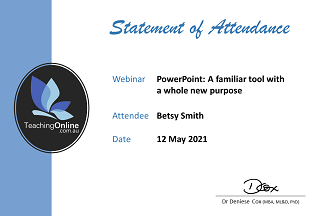 A Statement of Attendance is issued on completion of each live event activity.
Note the recording of the live event will be available to all participants for 30 days only after the event.