Webinar Bundle - Creative Training Techniques
Bundle
Dozens of innovative techniques, strategies & activities that can be immediately applied to training situations
The Creative Training Techniques™ webinar series is designed to free participants from boring and unproductive training sessions and unlock the true potential of every group.
It aims to provide value for trainers of all experience levels. Seasoned trainers will learn new ways to engage and enliven audiences and those who have recently joined the training profession will gain a great foundation on how to use creative training techniques to attract and maintain the interest of their audiences.
#1 - Introduction to Creative Training Techniques 
#2 - Amplifying Learning using C.O.R.E. 
#4 - Creatively Managing Difficult Behaviours 
#5 - Putting it All Together - Creative Training Techniques in Practice! 
Participants can choose to attend individual sessions or bundle all five webinars into an event series.
Ultimately, attendees will receive dozens of innovative techniques, strategies and activities, across the five webinars, that can be immediately applied to their own training situations.
The concepts and ideas shared come from the Train-the-Trainer Boot Camp, the world's most popular train-the-trainer program, for which MRWED is the exclusive Australian Licensee. The Creative Training Techniques webinar series therefore provides a 'highlights package' to help transform the programs of attendees, who will join thousands of trainers from around the world who have used these techniques to increase retention and promote engaging and impactful learning experiences.
 This webinar series package comprises 5x digital live webinar sessions.
Investment: $199.00 inc GST.  
Presenter

Marc Ratcliffe - CEO, MRWED Training and Assessment
Marc is a multi-award-winning trainer, author and education entrepreneur. He is the CEO and founder of MRWED Training and Assessment and has been involved in the VET Sector for more than 25 years. Marc is a strong advocate for "edu-tainment" and believes that learner involvement and fun are integral to student success.
He continues to be an in-demand conference speaker and workshop facilitator, having presented at more than 50 conferences in a dozen countries in the past decade. He has also presented training-related workshops internationally in the UK, North America, Africa and Asia and is one of only two people in Australia certified to deliver Bob Pike's Train-the-Trainer Boot Camp, the world's most respected train-the-trainer program.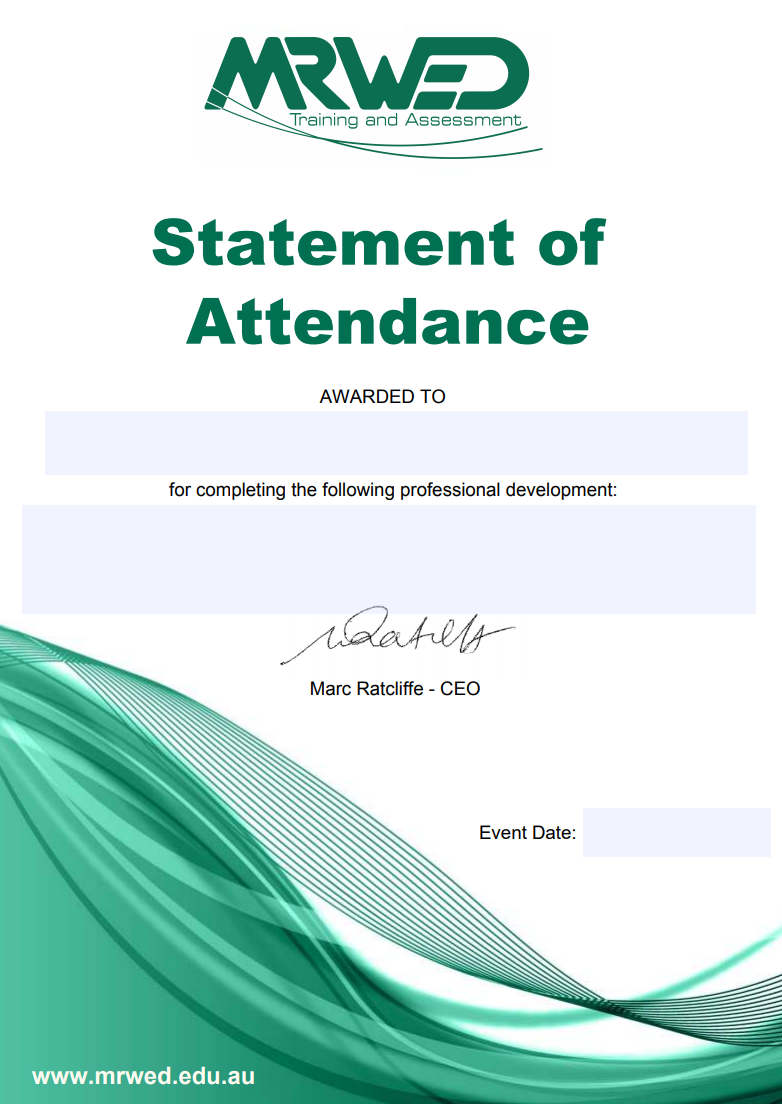 A Statement of Attendance is issued on completion of live event activities.
Note the video recording of the live event will be available to all participants for 30 days after the event.